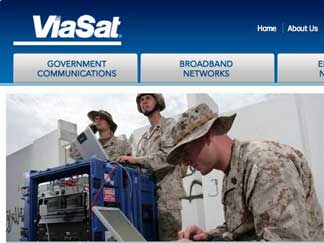 [SatNews] Cavium Networks announced that ViaSat Inc. has selected OCTEON(R) Multi-Core processors to power its next generation subscriber terminals as well as aggregation gateways for its SurfBeam(R)2 broadband-over-satellite system.
ViaSat next generation equipment benefits from the low power consumption, rich computing and service capabilities, and integration offered by OCTEON Plus processors to provide always-on high-speed Internet access with sophisticated QOS, built-in firewall and network address translation, and video/voice-over-IP services to millions of end-users.
The mass market adoption of broadband-over-satellite systems requires the ability to grow the network to handle massive numbers of users and aggregate data throughput, low operational expenditure to serve a widely dispersed subscriber base, and low capital expenditure
to drive affordability of services while delivering competitive broadband data rates. The
ViaSat SurfBeam system
delivers on all these requirements by integrating
widely-used terrestrial wireless and advanced satellite technologies. This combination enables worldwide service providers to deploy satellite network systems with very high system capacity, simple "no touch" subscriber provisioning and smaller, lighter consumer-priced subscriber terminals.
The
OCTEON multi-core processors
integrate a variety of optimized hardware accelerators and IOs, helping enable ViaSat terminals and gateways to
deliver up to 100 Mbps end-user performance along with industry leading scalability, reliability and energy efficiency.
"The ViaSat
SurfBeam broadband system has become the first choice among worldwide service providers for broadband-over-satellite
," said
Jeff Crosby
,
vice president Commercial Broadband at ViaSat
. "The OCTEON processors offer features and scalability that help us deliver satellite broadband that exceeds median DSL data rates and user experience to mainstream home and SOHO/SMB markets. We expect to deploy many millions of satellite terminals over the next several years as we roll out our transformational satellite broadband service."
OCTEON multi-core processors provide a
scalable range from one to 32 64-bit general purpose cores on a single chip along with the most advanced networking, storage, security and application hardware acceleration
. The Cavium OCTEON core is
Cavium's custom implementation, optimized for networking and services with very low power consumption.
Application hardware acceleration engines for QoS, packet processing, TCP, compression, encryption, RAID, de-duplication and pattern matching allowing the family to deliver unmatched scalability, performance and integration. Flexible standards-based I/Os including gigabit Ethernet, 10 gigabit Ethernet, PCI Express Gen 1 and 2, USB2.0 and Interlaken enable flexible, high-bandwidth network and system connectivity.