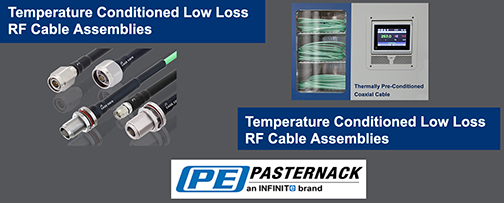 In the worlds of SATCOM and ECM Systems, avionics, military electronics and IFF, dependable performance is critical and there can be no failures — high-reliability cable assemblies are crucial to project and mission success.
To address these applications, Pasternack has introduced a new series of temperature conditioned, PTFE low loss cable assemblies and MIL-DTL-17 cable assemblies that are in-stock and available to ship same-day (Comparable Hi-Rel cables require 8-12 weeks to ship).

Features Include:
Max. frequency of 18 GHz
Double and triple shielded versions
Lot traceability for all materials (RF connectors, coax cable, heat shrink, and solder)
J-STD soldering
WHMA-A-620 workmanship
High-Reliability cable and connectors
RF test plots
Detailed Test Reporting; 100 percent test sampling of assemblies
Assemblies ship same day
These Commercial-Off-The-Shelf (COTS) cable assemblies offer a combination of superior materials, processes and acceptance testing designed to ensure high-reliability performance for mission critical applications.