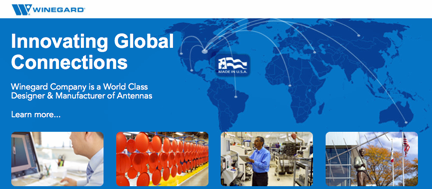 [SatNews] Winegard has introduced the Pathway™ X1 satellite HD TV antenna developed exclusively for DISH® HD and SD programming—mobile TV viewers will find the X1 ideal for outdoor activities such as RVing, tailgating, camping and hunting.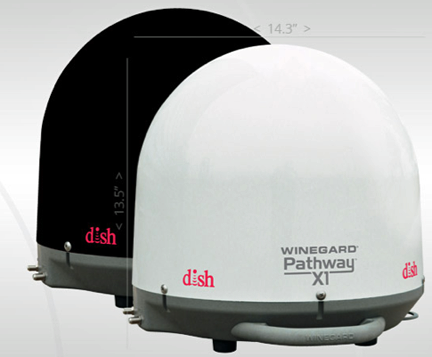 The Pathway X1 portable satellite antenna is the smallest satellite antenna on the market today. It is 40 percent smaller than the popular Winegard Carryout and is also the only portable satellite antenna available that offers the ability to convert to a permanent roof mount antenna. Consumers will also appreciate the simple, user-friendly setup and operation. Key benefits to the Pathway X1 antenna include:
Easier to handle, weighing in at just 10 pounds
Automatically finds DISH satellites
Single cable setup – antenna powered through receiver via one coax cable
Perfect solution for 1 TV, but also supports two coax ports for 2 TVs
Setup and watch HD TV in less than 15 minutes
Unique ability to permanently convert the portable to a roof mounted antenna without having to pay the high price of a roof mounted antenna (roof kit sold separately)
HD Ready and compatible with DISH HD Solo Receivers with optional pay-as-you-go monthly programming (programming packages sold separately)
Customers that already subscribe to DISH at home can add the Pathway X1 system (antenna and DISH receiver) to their account for only $7 per month and enjoy their same programming
Enjoy SiriusXM channels included in your AT 120 or higher programming package at no additional cost
Both Pathway X1 and X2 antennas are compatible with DISH Solo HD receivers (models 411, ViP 211, ViP 211k, and ViP 211z) and with Pay-as-you-go programming available in SD/HD packages. Using the remote, customers simply select the state in which they are located and the antenna will automatically locate the DISH satellites. If mounted to the vehicle roof, the Pathway X1 is for stationary use only. Receiver bundle packages (antenna plus DISH receiver) are available for both the X1 and X2. Additionally, Winegard offers an industry best warranty of two years parts, one year labor on the Pathway models.

For more information regarding the Winegard Pathway X1 and Pathway X2 automatic portable satellite TV antennas, visit http://www.winegard.com/pathway/.