STRONG, a member of the SKYWORTH Group, has released a new HD+ Satellite Receiver.
The HD+ Receiver SRT 7806 stands for a rich multimedia experience and an upgraded performance and comes with a six month HD+ smart card for free. The DVB-S2 HD receiver SRT 7806 is equipped with the latest satellite reception technology and a card reader for reception of the HD+ channel bouquet. The HD+ package includes 23 private channels and more than 30 Free-To-Air channels in HD. Buying a STRONG SRT 7806 receiver with smart card includes a free activation of the HD+ service for six months.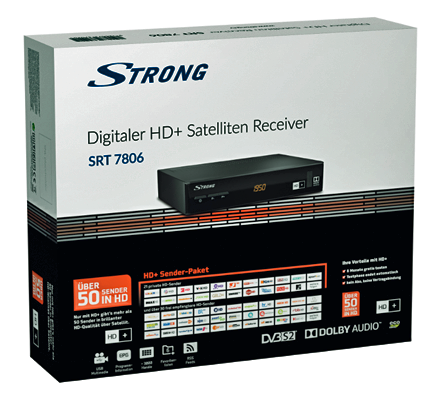 The SRT 7806 is a versatile receiver with all the benefits of digital television. It offers useful and convenient functions such as six favorite lists for TV and radio, a memory capacity of as many as 3,000 channels, teletext and multilingual subtitle support. The Electronic Program Guide (EPG) provides an excellent overview of current and upcoming programs. As many as 20 timers can be booked for a fast switch-on and customized reminders of favorite broadcasts. Moreover, the multimedia function is a clear asset: The USB port, conveniently placed on the front, enables the playback of photos, music files and videos directly on screen and complements TV consumption habits. Surround sound in Dolby® Digital Plus and a picture quality of up to 1080p on HDTVs via HDMI serve as indispensable characteristics. An additional SCART output is a service for those customers who do not watch HD TV yet, but intend to prepare for the future.