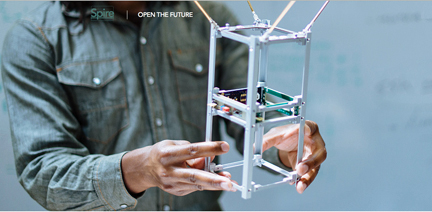 [SatNews] Spire has raised $25 million in Series A funding and the company is also changing its name from Nanosatisfi, with rebranding rolling out through the end of the year.
"We listen to the three-quarters of the Earth that is remote or covered by water. Our customers make global business decisions and require detailed data in regions that have been critically underserved. Spire's offering of high frequency, high accuracy data resonated with them, particularly in the areas of global trade, weather, shipping and supply chain, illegal fishing, and maritime domain awareness. Modern remote sensing traditionally focuses on the small fraction of Earth that is covered in land and is densely populated with people," said Peter Platzer, Spire CEO. "What happens, particularly over the oceans, is critical in understanding global systems, and our proprietary technology delivers truly global perspectives that enable our customers to make smarter decisions."
Spire will use its new funding to keep pace with customer demand, extend its satellite network and data infrastructure, and expand its team. The company has raised a total of $29 million in funding to date, with its latest round led by RRE Ventures, and with participation from existing and new investors Moose Capital, Quihoo and Mitsui & Co. Global Investment. Initially incubated by hardware accelerator, Lemnos Labs, the company went from initial concept to space in the span of 12 months. Spire has quadrupled in headcount since then, and its growing customer base across North America, Europe and Asia—along with facilitation from the Singaporean government—has prompted the company to open a second office in Singapore.
"Spire has seized on an incredible market opportunity. Its small form factor satellites give it substantially better operating leverage and the potential to disrupt legacy platforms. The caliber of the team, combined with the level of traction with customers, is well above what we normally see in a Series A company. Spire's expansion into Singapore opens up another new frontier for the business, and bodes very well for the company's future success in the region," said Will Porteous, General Partner and COO at RRE Ventures.
To date, Spire has deployed four of its small form factor satellites into space. The satellites leverage relatively inexpensive, off-the-shelf technologies where possible, rather than expensive, proprietary, single-use technologies traditionally associated with space. This alternative approach to innovation versus invention is central to Spire's culture where employees are regularly encouraged to apply proven technologies in smart ways to create new results.
With present demand, Spire plans to scale to more than 50 satellites in the near future.
The Spire infosite is located at http://www.spire.com/.