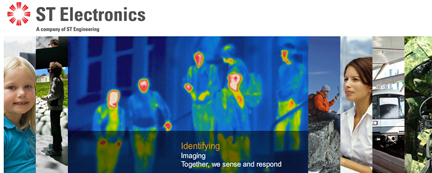 [SatNews] ST Engineering has announced that the company's electronics arm, Singapore Technologies Electronics Limited (ST Electronics), has secured about $513m worth of contracts in the third quarter of 2014 (3Q2014) for satellite and broadband communications, rail electronics and intelligent transportation, as well as advanced electronics and Information Communications Technologies (ICT) solutions.
Satellite & Broadband Communications
The sector secured contracts worth $117m for its SATCOM business, delivering its wide range of iDirect and Agilis range of SATCOM products and solutions to governments, security, enterprises, oil and gas and maritime users worldwide. ST Electronics' innovative sensor solutions for area surveillance and intrusion detection based on its award winning AgilFence and innovative AgilTrack products continued to serve customers protecting air and sea ports, critical facilities and high-end residential developments.
Rail Electronics & Intelligent Transportation
Rail electronics and Integrated Transportation System contracts amounting to about $101m included platform screen doors, signalling installation and digital communication network sub-contract works for GE Transportation for Singapore Thomson-East Coast Line as well as other systems and maintenance projects for Malaysia's Ampang Line, Wuhan MRT Line 4 in China and a Passenger Information System for an Indian rail project in New Delhi. Work on all these projects have started and will be completed progressively over the next 5 to 9 years.
Advanced Electronics & ICT Solutions
For advanced electronics and ICT solutions, ST Electronics secured contracts totalling about $295m in 3Q2014. These include integrated security systems for various premises and facilities in Singapore and the region as well as a contract to supply secured Location Based Services products for an overseas customer.
"ST Electronics continues to focus on our three key business areas of satellite communications, rail electronics and transportation and advanced electronics and ICT. Singapore's Smart Nation initiatives offer opportunities for the company to develop our capabilities and offer our solutions to improve the quality of life for our citizens. Against a backdrop of an aging population, increasing healthcare costs and a shortage of healthcare workers, ST Electronics is developing smart and practical solutions that can contribute to a better experience for patients and greater operational efficiency for healthcare providers," said Lee Fook Sun, President, ST Electronics.
The company's infosite has additional information at http://www.stengg.com/