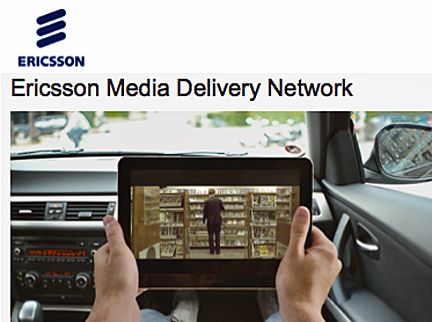 [SatNews] At Mobile World Congress, Ericsson (NASDAQ:ERIC) will launch a new unified...
...content delivery network (CDN) solution that leverages its leadership position in video delivery, optimization and networks, to address the global consumer shift to broadband mobility. The new Ericsson Media Delivery Network solution is uniquely designed to unite the delivery of managed and unmanaged content over fixed and mobile networks by leveraging Ericsson's advanced packet core and radio capabilities with converged cache, combined with new management and service exposure layers for intelligent control and business model enablement.
This solution enables operators to enter the media value chain with profitable video delivery and to truly leverage their established consumer relationships. At the same time it offers content providers and enterprises cost-effective accessibility and guaranteed quality of experience across all networks, enabling the delivery of video, web content, and app downloads while accelerating commerce. Ericsson already has a strong capability and a growing customer base in the operator CDN area. At Mobile World Congress, the company will show a compelling side-by-side comparison of the performance and capabilities of a standard network and one enhanced by the new Media Delivery Network solution. Many use cases will be demonstrated including:
Mitigating network impact, peering costs, and associated investment through consolidated content delivery including Transparent Internet Caching (TIC)
Caching of Over-The-Top (OTT) content so that operators can create new revenue streams and content providers can have guaranteed quality of experience to consumers
Maximizing operator content sales via the ability to deliver on-demand content as well as linear content
Optimizing traffic over multiple CDNs via intelligent CDN selection technology

Each use case will explore the advantages of the Media Delivery Network solution, showcasing the improved quality of experience, efficiency, and monetization opportunities.