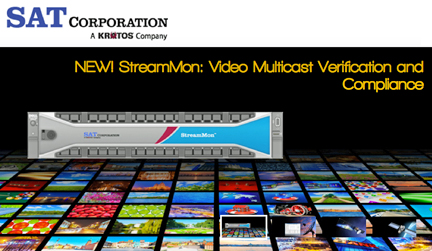 [SatNews] Kratos Defense & Security Solutions, Inc. (Nasdaq:KTOS) has announced that their SAT Corporation (SAT) subsidiary released StreamMon, an Internet Protocol (IP) Multicast caching product that expands the ability of service providers to monitor, assure and verify the quality of the video content passing through their networks.
By introducing a new caching-based model developed in close association with one of the world's largest cable operators, StreamMon enables operators to improve the effectiveness of validation tasks as well as shift the burden from the extremely expensive devices typically used today onto far more affordable units that are optimized for the task.
The demand for video content is exploding exponentially worldwide--and with it the number of channels and formats—making video one of the key growth drivers across all sectors of the communications industry. In the new IP-based video ecosystem, content is digitized for streaming and may pass through numerous service providers before arriving at its final destination. For example, a soccer match filmed in Brazil transfers over satellite to multiple teleports or operations centers where it is passed to broadcasters and cable operators before arriving in a fan's home in New York, London, Riyadh or Singapore. Along the way, advertisements are inserted, close captioning is overlaid, local licensing regulations must be observed and possible failure points multiply. Anyone who has watched the image on their TV suddenly freeze and explode into digitized noise has seen one possible result. In addition, the increasing popularity of new platforms such as mobile devices and Ultra HD means that providers increasingly support multiple streams of similar (or even the same) video content that has been optimized for particular devices and delivered under different Service Level Agreements (SLA) or regulatory conditions.
StreamMon is a wholly new kind of specialized recording device designed specifically to address the growing validation, compliance and revenue protection needs of broadcasters large and small. As a dedicated Caching Server, StreamMon is "always on," automatically capturing 100 percent of selected content streams over a rolling time period for future playback. If a customer calls to report a problem, operators can use StreamMon to roll back the clock and look up the specific stream feeding that customer at the time of the reported problem. Staff can compare what came into their network with what went out, thus validating whether the breakdown occurred in the operator's network or in another leg of the distribution path outside of their control. If inside their network, robust metrics help the operator determine exactly what went wrong and repair it far more quickly. Similarly, the operator has verification to show that purchased commercials were inserted, that required closed captioning was included, and that other service stipulations were complied with, such as local blackouts of sporting events.
"StreamMon's extensible architecture supports the entire value chain from content acquisition through aggregation, encoding, transcoding, encryption and distribution," said Jason Finnigan, SAT's product manager for video solutions. "By employing an intelligent caching model with workflow support, StreamMon helps operators assure service quality and protect revenue in a number of important ways."
Today, service providers make do with an insufficient set of tools for validating their video streams. Most repurpose their high-end traffic analyzers, which include a limited recording capability, doing double duty for verification. However, because their primary purpose is to scrutinize transport data, analyzers have several significant inadequacies when used as validation tools, not the least being that they are extremely expensive. In addition, because the recording capability is only a secondary purpose to support analysis, their storage capacity is extremely limited. Most importantly, they must be turned on and off manually. If the analyzer is not operating on a given stream at the moment in question, it is of no help.
StreamMon introduces an entirely different caching model designed specifically to support content validation in multi-stream environments. All desired streams are monitored continuously, 24/7 for a rolling period of time so that nothing slips through or is omitted accidentally. Should service questions arise later, the streamlined interface enables operators to quickly and easily go back in time to review the stream. StreamMon fits into any normal server rack and works at near wirespeed, with a single unit capturing up to 40 streams of 40Mb/s or 100 streams of 2.5 to 5Mb/s of video. Typically, this will support a continuous caching period of approximately four hours. Since complaints and questions are usually received shortly after an incident occurs, this provides plentiful buffer time for most applications. Operators can extend that time period further based upon their goals and SLAs by controlling the number of streams being monitored, the format of the video, the number of devices employed, and more. Specified streams or time segments can also be designated for longer term or permanent storage. In addition, StreamMon can be integrated with network monitoring tools to immediately respond to service or transport disruptions alarms, automatically recording specified content for further review and analysis. For more information about StreamMon, visit www.sat.com/StreamMon.
For more information about SAT, please visit http://www.sat.com.