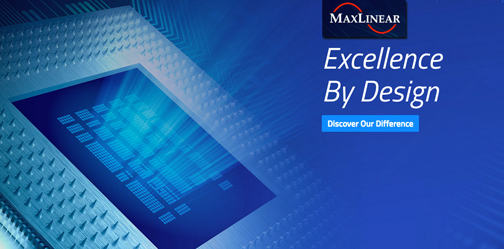 A new, three-tuner, satellite receiver for personal video recorder (PVR) STBs has debuted from MaxLinear Inc. (NYSE: MXL), enabling satellite pay-TV operators to deploy advanced PVRs with multi-channel, multi-screen services to their subscribers, all with minimal, incremental capital expenditures.
The MxL532C integrates MaxLinear's leading-edge Full-Spectrum Capture™ satellite tuner technology with three demodulators that are compliant with DVB-S, DVB-S2, DSS and DIRECTV advanced modulation and coding (AMC) specifications. The chipset supports one or two wideband RF inputs and is able to tune to any transponder in the 250MHz-2350MHz frequency range. Up to three channels are demodulated and output over three serial transport stream (TS) interfaces, or multiplexed onto a single parallel TS interface. The MxL532C is able to interface to any standards-compliant audio/video system-on-chip (SoC).
Power consumption of the MxL532C device is approximately 1.3 watts in single input mode, which enables a small form factor design without a noisy fan or an expensive heat sink. MaxLinear also provides a reference platform to customers including all hardware design files and software drivers to accelerate development timelines and minimize time to market.