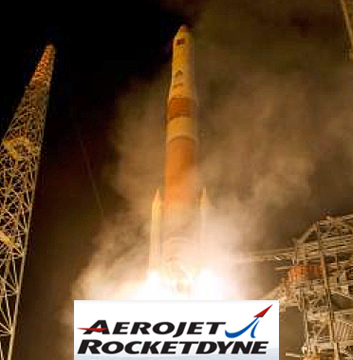 Innovative new propellant valves for Boeing's Crew Space Transportation (CST)-100 Starliner service module propulsion system have successfully competed by Aerojet Rocketydne, a subsidiary of Aerojet Rocketdyne Holdings, Inc. (NYSE:AJRD), for two Launch Abort Engines (LAE).
The tests were conducted in the Mojave Desert in California and confirmed the ability for the new valves to modulate propellant flow and control peak LAE thrust in the event of a launch abort. The LAEs, designed by Aerojet Rocketdyne, include a fuel valve and oxidizer valve, which were developed and tested under the company's Commercial Crew Transportation Capability (CCtCap) subcontract to Boeing. The Starliner will open a new era of spaceflight, carrying humans to the International Space Station once again from United States soil.
Under the CCtCap subcontract to Boeing, Aerojet Rocketdyne will provide propulsion system hardware, which includes LAEs, Orbital Maneuvering and Attitude Control (OMAC) thrusters, Reaction Control System (RCS) thrusters, and more. Boeing will assemble propulsion hardware kits into the service module section of the Starliner spacecraft at its Commercial Crew and Cargo Processing Facility at NASA's Kennedy Space Center in Florida. Aerojet Rocketdyne also provides hardware supporting service module hot-fire testing, which will take place at NASA's White Sands Test Facility in New Mexico; the pad abort and system qualification testing, which will occur at White Sands Missile Range in New Mexico; and the orbital flight test, which will be launched from Cape Canaveral Air Force Station in Florida.
The Starliner service module propulsion system provides launch abort capability on the pad and during ascent, along with propulsion needs during flight—from launch vehicle separation, docking to and undocking from the space station, to separation of the crew and service modules when the spacecraft begins to re-enter the Earth's atmosphere. At separation, crew module monopropellant thrusters, also provided by Aerojet Rocketdyne, support re-entry control.
The Starliner service module and launch abort propulsion system is designed to rapidly "push" a crew capsule to safety if an abort is necessary. If unused for an abort, the propellant is used to complete the spacecraft's mission operations. The Starliner service module propulsion system includes four 40,000-pound thrust launch abort engines used only in an abort; 1,500-pound thrust class OMAC thrusters that provide low-altitude launch abort attitude control; maneuvering and stage-separation functions along with high-altitude direct abort capability and large orbital maneuvers; and 100-pound thrust class RCS engines that provide high-altitude abort attitude control, on-orbit low delta-v maneuvering and space station re-boost capability.
According to Aerojet Rocketdyne CEO and President, Eileen Drake, these valves successfully enabled the engine to demonstrate precise timing, peak thrust control and steady-state thrust necessary during a mission abort. This testing culminates a year of dedicated hard work by the LAE Integrated Product Team at Aerojet Rocketdyne.