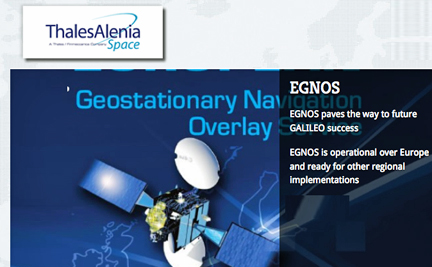 [SatNews] Thales Alenia Space has signed an agreement with the Italian Space Agency (ASI) for the next phase of the Second Generation COSMO-SkyMed activities.
The contract is valued at around 66 million euros and initiates the activation of Phase C3 of the program, this being the activities for completion of the system design and basic technological developments for the on-board component (two satellites at the cutting edge of technology and performance) and all ground infrastructures (ground segment, operations and logistics). A Temporary Grouping of Companies has been set up, with Thales Alenia Space Italy as mandataire and Telespazio as partner. This entity will optimize the organization of all executive activities for development of the system and operational management of the program.
The value of the Thales Alenia Space Italia tranche of the contract is 43.6 million euros, while Telespazio's activities are valued at 23 million euros. Telespazio will in particular be responsible for developing the ground segment and the integrated logistics of the operations. In order to guarantee the continuity of the services provided by the First Generation COSMO-SkyMed System, currently at the peak of its operations, it is essential that the first satellite be operational in the first half of 2017 and the second by 2018. To achieve this goal, and as the phase C3 agreed upon today provides only partial financial coverage, guaranteeing financing for the entire system by the end of 2014 is an essential priority.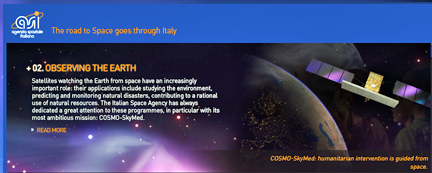 The development of Second Generation COSMO-SkyMed will guarantee a generational leap in terms of technology, performance and operational life of the system and, consequently, Italian leadership in the Earth Observation sector will be strengthened worldwide. Strategic international partnerships, like those already in place with France and Poland, will also be expanded.
Thales Alenia Space, a joint venture between Thales (67 percent) and Finmeccanica (33 percent), is a key European player in space telecommunications, navigation, EO, exploration and orbital infrastructures. Thales Alenia Space and Telespazio form the two parent companies' "Space Alliance," which offers a complete range of services and solutions.
The Thales Alenia Space infosite may be accessed at http://thalesaleniaspace-products.com/
The Italian Space Agency's infosite is available at http://www.asi.it/