RigNet, Inc. (NASDAQ: RNET) will attend the Satellite 2018 Conference on March 12-15, 2018, where the company will showcase their fully-managed voice and data services, SatVeillance, IoT enablement, cybersecurity solutions, and real-time predictive analytics that help enhance customer decision making and optimize business performance.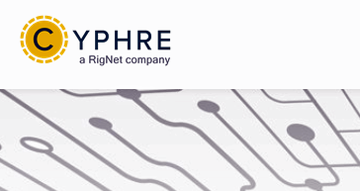 At the conference, RigNet will be featuring Cyphre Security Solutions, LLC, a subsidiary of RigNet, at Booth #1325, where conference attendees can explore their interactive demo to learn how Cyphre uniquely provides data security without boundaries. CyphreLink, a solution that protects data over any transport medium providing unyielding protection for data traversing satellites as well as traditional terrestrial networks, will also be featured. CyphreLink also enables valuable and over the top revenue opportunities for satellite providers.

RigNet representatives will offer one-on-one meetings in a separate meeting space during the conference. Attendees interested in arranging a meeting should visit http://bit.ly/2ovseps to submit their query.