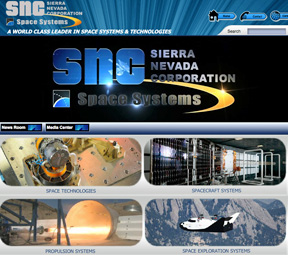 [SatNews] Sierra Nevada Corporation (SNC) has signed a definitive purchase agreement to acquire the Orbital Technologies Corporation (ORBITEC) as a wholly-owned subsidiary of SNC.
ORBITEC is a leading subsystems integrator and high technology development company based in Madison, Wisconsin. ORBITEC's strong liquid rocket propulsion, life science and support, and fire suppression technology portfolio will enhance SNC Space Systems' Propulsion and Spacecraft Systems' product lines.

SNC has been working with ORBITEC for more than three years. ORBITEC is the lead for the Environmental Control and Life Support Systems (ECLSS) and Thermal Control Systems (TCS) for SNC, providing reliable living conditions including temperature and humidity control to support the astronauts during their journeys on SNC's Dream Chaser® spacecraft. Recently, SNC selected ORBITEC to provide the RCS engines for Dream Chaser using green, nontoxic propellants. The flexibility of fuel and oxidizer options along with the ability to quickly scale engine size makes ORBITEC's Vortex technology the growing industry preferred choice for Reaction Control Systems (RCS), Upper Stage engines and potentially boost class engines.The acquisition will integrate all of ORBITEC's technologies into SNC's Space Systems, based in Louisville, Colorado. ORBITEC will continue expanding operations in Madison.
ORBITEC's technologies and products also include "green" propellants for next generation spacecraft, advanced plant systems that can ultimately integrate future life support systems, and other science packages and capabilities for spaceflight. The NASA-lead VEGGIE system launched in May to the International Space Station, demonstrating the growth of edible plants in space, is paving the path for future revolutionary closure of future life support systems that engage biological systems to help recycle water, regenerate breathable air, and augment the food supply for long duration space habitation in and far beyond low Earth orbit. The acquisition of ORBITEC enhances SNC's commitment to human spaceflight systems. "Merging with SNC integrates compatible cultures for rapid and efficient deployment of space technologies and products, and enables ORBITEC to accelerate commercialization of its high performance and cost effective products to market", said Tom Crabb, president of Orbitec. Mr. Crabb will continue to lead the operations in Madison, Wisconsin
The SNC infosite may be accessed at http://www.sncorp.com/
For more information regarding ORBITEC, please visit http://orbitec.com/