Infostellar, the developer of the StellarStation cloud-based satellite antenna sharing platform, has announced a $7.3 million Series A investment, led by Airbus Ventures, with additional funds from WERU Investment, D4V, Sony Innovation Fund, and existing investors, FreakOut Holdings, and 500 Startups Japan.
This financing will be used to fund the launch of Infostellar's flagship platform, StellarStation, expand its network of partner antennas and hire additional talented team members. Following the closing of the Series A round of investment, Infostellar also welcomes Dr. Lewis Pinault, Managing Investment Partner for Airbus Ventures in Japan, to the Infostellar company board.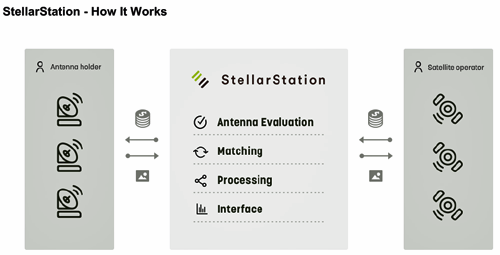 Lewis stated that with the burgeoning number of Low Earth Orbit launches and the fast evolving criticality of data from space, supporting ground station networks are becoming hard pressed to keep up with satellite data demands — despite the irony that much of the time ground station antennas stand idle while other people's satellites pass overhead. Infostellar dramatically shifts the model — they can bring many hundreds of antennas around the globe to the service of thousands of satellites. With their StellarStation solution, everyone in the equation can win: antenna operators idle less and earn more, and satellite operators gain real-time network-side control — and virtually anyone can become a satellite operator.
Founded in January 2016 in Tokyo, Infostellar's long-term mission is to provide smart, efficient communications infrastructure for humanity's ongoing space expansion. The first step in this journey is the creation of StellarStation, set to begin closed beta launch in October of 2017. Through implementation of the StellarStation hardware unit, satellite operators can share their antennas through a cloud-based platform during otherwise idle time, allowing increased transmission at much lower cost, while also passing on revenue to antenna owners in the network.