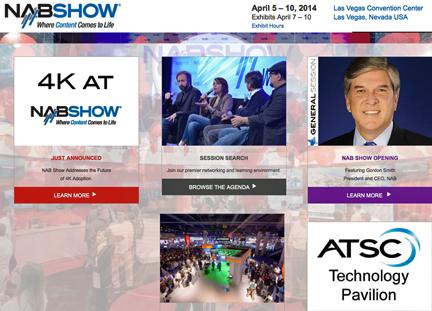 [SatNews] NAB Show will feature sessions, workshops and panels on the increasing role of ultra high-definition standards for 4K television displays and production technology in the media and entertainment industry.
Held April 5 -10 in Las Vegas, NAB Show is the world's largest annual conference and expo for professionals who create, manage and distribute entertainment across all platforms. Workshops featuring hands-on instruction in the latest 4K camera technology include REDucation Training (Friday, April 4 - Sunday, April 6) and In Depth: BlackMagic Cinema Cameras (Saturday, April 5).
On Monday, April 7, the Super Session panel "Consumers, 4K and Next Gen Home Entertainment -- Which Experiences Will Most Excite Them?" will place a spotlight on the various features and stakeholders within the 4K ecosystem, identifying the next generation of home entertainment experiences that will excite consumers. On Tuesday, April 8, Post|Production World attendees will learn how to scale production equipment to 4K standards and beyond at "In Depth: Moving Beyond HD: 2K, 4K, 6K & More."
"Consumers expect the content they consume to be delivered in crisp, rich resolution, regardless of device," said Chris Brown, executive vice president for Conventions and Business Operations at NAB. "The advent of new standards bring new challenges: capturing 4K-quality content, editing and archiving resource-intensive footage, and distributing a final product across mediums."
On Tuesday, April 8, at the Broadcast Engineering Conference (BEC), the "MLB Network: Advancing the Way Audiences View Baseball with 4K Technology" session will provide details on the 4K makeover that Major League Baseball (MLB) underwent in 2013, bringing fans closer to America's favorite pastime. On Wednesday, April 9, the BEC session titled "The Future of 4K UHD – Examining Methods to Acquire, Exchange and Distribute Content" will provide details on the technologies through which UHDTV can be reliably and efficiently acquired, exchanged and distributed.
NAB Show exhibitors in the 4K community include Adobe, Avid, Blackmagic, Canon, Carl Zeiss AG, GoPro, JVC Professional Products Co., Panasonic, Quantel, RED Digital Cinema and Sony Electronics Inc.
For additional information regarding NAB 2014, as well as registration to attend this event, please visit http://www.nabshow.com/