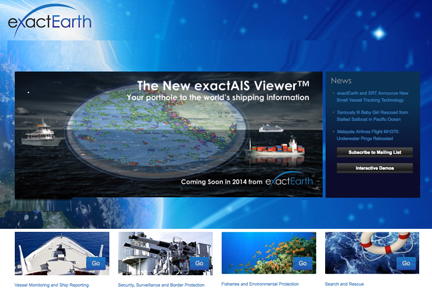 [SatNews] exactEarth Ltd. has concluded a mutually exclusive agreement with SRT plc (SRT), to develop and commercialize technology that will for the first time enable low power AIS transceivers of the types being deployed on small commercial and leisure vessels worldwide to be tracked from space, thereby enabling global tracking.
The agreement follows the memorandum of understanding between SRT and exactEarth, which was announced on May 9, 2013.
AIS is a VHF technology primarily optimized and designed for high intensity terrestrial-based tracking with reliable range typically limited to approximately 50 nautical miles. High powered Class A type transceivers are able to be tracked globally by the existing exactEarth AIS satellite network, however due to a variety of complex reasons, transmissions from standard Class B and Identifier type devices cannot currently be reliably tracked from space. Since May 2013 last year, exactEarth and SRT have pooled their capabilities to develop a new technology called ABSEA™ which, when embedded within standard low powered AIS transceivers, enables their transmissions to be received by exactEarth satellites. This enables wide area extended tracking capability of small vessels fitted with ABSEA enabled transceivers and the provision of valuable supplementary AIS tracking data to existing terrestrial networks with incomplete and or standard coverage limits.
Under the terms of the agreement SRT and exactEarth jointly own the ABSEA technology and will co-operate to commercialize the tracking data. SRT will receive a share of the revenues generated from data sales. The first ABSEA enabled products are expected to be deployed later this year.
Simon Tucker, SRT CEO said: "This is a significant strategic agreement for SRT, which enables our AIS Class B and Identifier type transceivers with a unique capability of value in many applications. exactEarth is the world's leading satellite AIS network operator and is therefore a natural partner for SRT."
Peter Mabson, exactEarth President, said, "We have spent the last 5 years building the world's leading Satellite AIS network. With the World Wildlife Fund now calling for AIS tracking of all fishing boats worldwide and with an estimated global population of 8 million small vessels, we see a very considerable long-term, sustainable market for ABSEA-based services. Since SRT is the global leader in the field of AIS-based vessel transceivers, they are the ideal partners for us."
There's further information regarding exactEarth at their infosite, http://www.exactearth.com/