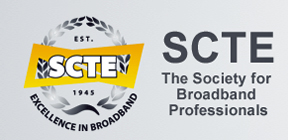 [SatNews] SCTE™, the Society for Broadband Professionals, is exhibiting at CommunicAsia2014, taking place in Singapore from June 17-20, as part of its support in the Asia region.
Making its debut at the event, the SCTE team will be on hand in Booth 3A2-06 to promote and answer questions about its SCTE India initiative for wireline engineers and technicians—which is currently accepting new members—and its bolstered portfolio of core skill training courses.
As infrastructure and digital switchover programs on the subcontinent progress, SCTE India drives the professional development and accreditation of India's wireline engineers and technicians while providing a networking platform and knowledge base to support members. SCTE India is based in New Delhi and is led by nine founding members from the Indian telecoms industry. Like the SCTE, SCTE India is an educational society designed to promote expertise, exchange of information and experience and the training and accreditation of members. Membership of SCTE India is open to all wireline engineers and technicians throughout the Indian subcontinent.
New training courses for SCTE members worldwide include "Network Architecture and Design," "Introduction to Broadband" and "Fiber Optic Transmission for Technicians." In addition, the Society has updated and revised its existing training courses for "Installation Technicians," "Service Technicians" and "Network Technicians" to keep attendees up to date on the latest broadband technologies. Students completing the courses successfully become accredited SCTE Technicians and are issued SCTE certification. "An Introduction to Broadband" is a half-day course taught by a trainer from SCTE-approved Broadband Training Ltd. and is targeted toward nontechnical employees in broadband companies.
"Our SCTE India initiative and expanded offering of training courses have been instrumental in increasing the number of trained and accredited engineers and technicians in India," said Dr. Roger Blakeway, SCTE president. "As we continue to grow our presence in India and across Asia as a whole, CommunicAsia provides us with a great opportunity to meet with industry professionals and show them how SCTE plays a vital role in addressing consumer demand for digital services in this key market, while our training courses provide a valuable developmental tool for young technicians and experienced professionals alike."
Details on the benefits of SCTE membership may be accessed at http://www.thescte.eu/index.php/join/benefits-of-membership.