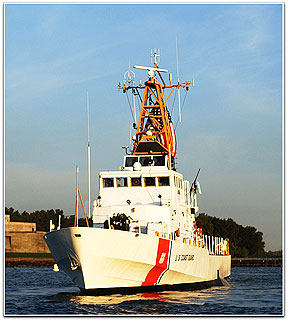 In an effort to expand its communications capacity and take advantage of affordable, emerging commercial satellite services, the United States Coast Guard is in the process of deploying the TracPhone® V7 and mini-VSAT Broadbandsm service from KVH Industries, Inc., (Nasdaq: KVHI) on its 110 ft and 225 ft cutters.
Intended to replace older satellite communications systems and services, the
KVH
integrated antenna and service solution is now offering increased bandwidth, reduced operating costs, and seamless coverage in key operational areas for the
Coast Guard vessels
.
The
mini-VSAT Broadband
service, along with the
KVH TracPhone V7
antenna, comprise the first end-to-end 24-inch VSAT antenna, service, and support package available for maritime communications. Seven secure earth stations around the globe, together with seven of the world's most powerful communications satellites, bring affordable, high-speed Internet connections and crystal clear voice service to maritime customers through the KVH mini-VSAT Broadband network.