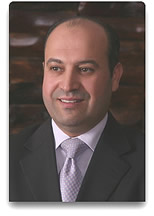 SmartSat is a UAE-based joint venture firm created by Smartlink, the Jordanian private shareholding company that operates as a global broadband satellite services provider in the MENA and Eastern Europe regions with offices in Jordan and the UAE; and Al Jawhara Holding, a Kuwaiti investment holding company that serves as SmartSat's financial manager.
SmartSat'
s new satellite, which will be sent to orbit in 2011, is in the design stage, while two satellite manufacturers have been short listed for the project. The Company has revealed it aims to help to accelerate the MENA region's transformation into a major global market for satellite broadcast by offering a range of services that target the rapidly increasing number of media, telecom, and Internet providers in the region. SmartSat considers the MENA a highly dynamic emerging satellite market where transponder demand has risen 12 percent annually in the last five years, according to a study by
Euroconsult
and the
London Satellite Exchange
. The study also shows that commercial satellite-lease revenues have reached USD 752 million in 2007, representing an average growth of 17 percent annually since 2003.
(
Photo: Khaled Derbas, the Chairman|M.E., SmartSat
.)