When involved in IoT, ORBCOMM Inc. (Nasdaq: ORBC) has just released their Enterprise IoT Toolkit, which could certainly be of interest to those developing products and services within the M2M and IoT environs.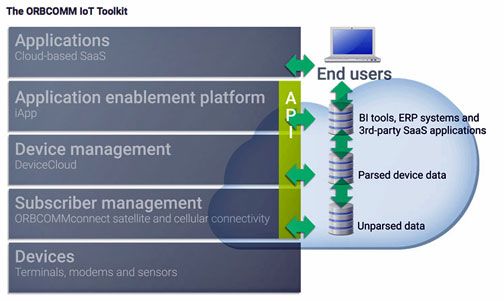 This new toolkit provides every layer of the IoT stack required to develop market-specific solutions that improve asset utilization, reduce operational costs and provide long-term return on investment (ROI). ORBCOMM's IoT Toolkit components are available together or separately to enterprises, Original Equipment Manufacturers (OEMs), solution providers and Value Added Resellers (VARs) to create M2M and IoT solutions with the assurance that all of the building blocks are interoperable and come with a single point of contact for support.

ORBCOMM offers a full suite of tracking, monitoring and controlling devices, ranging from individual components such as interchangeable satellite modems, sensors and smart terminals to turn-key, application-specific telematics solutions operating on multiple networks.
ORBCOMM's uniquely broad mix of connectivity options ensures customers are reliably in touch with their assets as cost-effectively as possible, even in some of the most remote places in the world. With services available in over 190 countries and territories, ORBCOMM's network connectivity portfolio includes services from seven Tier One cellular providers and three global satellite networks, including ORBCOMM's own low-Earth orbit (LEO) constellation.
ORBCOMMconnect is a powerful subscriber management platform that integrates multiple connectivity providers and reduces the complexity of managing M2M assets and IoT devices across these networks. The platform simplifies provisioning, connectivity, setting thresholds and alerts, and more through either a web-based interface or an API.
ORBCOMM's DeviceCloud enables customers to speak one language to all of their connected devices. DeviceCloud provides device configuration and provisioning, firmware upgrades and key data functionality such as transforming raw data into actionable information and generating alerts. It provides applications access to multiple networks and devices in a single device-agnostic API, allowing a replacement, upgrade or addition of devices, whether ORBCOMM or third-party, without updating the application.
ORBCOMM's iApp reduces the time, cost and complexity of deploying high-performance RFID and sensor-based M2M and IoT applications and solutions for the connected world. With application templates and enterprise plug-ins for a number of different industries, iApp can both jumpstart your IoT solution development and provide ongoing, evolutionary application development.
For customers looking for complete end-to-end M2M and IoT deployments, ORBCOMM offers a comprehensive suite of cloud-based SaaS reporting applications for tracking and managing assets across a wide array of industries.
ORBCOMM's IoT Toolkit is a finalist in the CTIA Super Mobility 2016 E-Tech Awards in both the Industrial IoT (IIoT, M2M, Sensors, RFID, NFC etc.) and Mobile Cloud categories. To learn more about ORBCOMM's IoT Toolkit, please visit their Booth 4837 or stop by the Awards Showcase at CTIA from September 7-9, 2016, at the Sands Expo and Convention Center in Las Vegas, Nevada.
According to Marc Eisenberg, ORBCOMM's Chief Executive Officer,there is a lot of hype surrounding IoT, with many companies trying to differentiate themselves in what is becoming a complex and crowded space. ORBCOMM believes this IoT Toolkit is the best and most complete offering available in the market today because these award-winning products and services have been used for years by the firm to build ROI-driven M2M and IoT solutions for our customers with great success.