[SatNews] Inmarsat (LSE: ISAT.L), Honeywell Aerospace (NYSE: HON) and Eclipse have successfully completed flight and lab tests of High Data Rate (HDR) capabilities for SwiftBroadband, an aircraft connectivity service provided through Inmarsat-4 (I-4) satellites.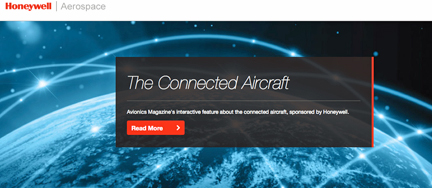 The new service will double the in-flight Wi-Fi speeds for commercial, government and helicopter users through a simple on-aircraft software upgrade. HDR gives aircraft operators and passengers a faster and more efficient broadband experience when browsing the Internet, checking emails, accessing instant messages and using streaming services while in the air.
Honeywell developed and tested HDR to increase the data speeds from Inmarsat's L-band SwiftBroadband network over its proven HSD-400 and HD-710 onboard hardware. Eclipse used its Aero+ Velocity IP aggregation solution to combine four HDR channels to provide average speeds of 2.15 Mbps with peak speeds of around 2.75 Mbps, which is approximately two times faster than existing SwiftBroadband in-flight connections. Together the three partners will offer a single higher-speed solution.

"SwiftBroadband has a very strong future as part of Inmarsat's portfolio. We are fully committed to our global L-band services and will continue to develop our technology to provide more bandwidth and better services," said Kurt Weidemeyer, Vice-President Inmarsat Business and General Aviation. "We are always seeking to innovate to improve the services we provide. GX Aviation and our new S-band network in Europe, with its complementary ground network, of course make the headlines."

"The new High Data Rate service is a great addition to Honeywell's broad connectivity product suite and offers another option for operators and passengers to enhance their in-flight experience," said Jack Jacobs, Vice President of Marketing and Product Management, Honeywell Aerospace. "Whether it is L-band, GX Ka-band or air-to-ground, Honeywell offers the right technology solution to match the evolving connectivity needs of aircraft operators."

Inmarsat provides SwiftBroadband services to thousands of aircraft worldwide. SwiftBroadband HDR builds on this hugely successful SwiftBroadband service, which was launched in 2007, and SwitfBroadband's X-Stream enhancement introduced in 2010. HDR supports four new streaming rates up to the fully combined rate of 2.15 Mbps, including the flexibility of tailored services to give users access to the configuration that most precisely meets their needs. Customers benefit from the higher rate communications either to or from their aircraft, or bidirectionally, depending on their application requirements, and they purchase only the bandwidth they need.

Marc Pinault, Eclipse General Manager, said, "Inmarsat's continued development of services available from the existing I-4 constellation of satellites has allowed Eclipse to keep up with the ever-growing bandwidth demands of our customers. SwiftBroadband HDR is another tool that allows us to continue delivering the most flexible and highest bandwidth solutions available for both the Business Aviation 'office in the sky' environment and the Government sector Airborne Intelligence Surveillance & Reconnaissance (ISR) requirements. We are working hard with our partners across all commercial and government markets to ensure we provide the very best connectivity now and in the future. HDR enhances an already established successful service: our L-band and Ka-band networks are the only ones that provide consistent global coverage. And our EU-wide network will provide additional capacity in what is widely predicted to be a region of very high demand."
Andy Start, President Global Government, Inmarsat, said, "Government airborne assets are finite and the operational requirement to receive the highest quality information in the shortest possible time is invaluable as it increases operational effectiveness. This HDR-based solution for Airborne ISR allows the aero platforms to be re-tasked immediately, thus maximising the success of each sortie and increasing operational tempo. The government team has worked closely with Eclipse and their customers to develop a solution addressing key requirements for full-motion video on mission-specific ISR aircraft. Our collaboration ensures the government sector will benefit from the cost savings and operational efficiencies provided by the HDR capability on SwiftBroadband."