[SatNews] Exelis (NYSE: XLS) has evolved its industry-leading capabilities in large space-based imaging systems to a full portfolio of smaller form factor solutions.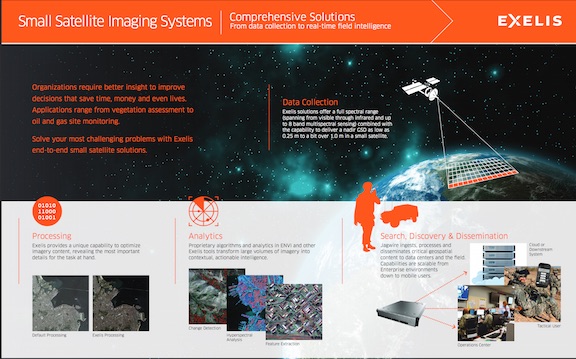 Exelis small satellite solutions are an example of innovative product offerings the company has as part of its strategic focus on intelligence, surveillance, reconnaissance and analytics. Exelis designed the imaging system for IKONOS, the first commercial imaging satellite, as well as the entire imaging system—consisting of a 1.1 meter aperture telescope—for the world's highest resolution, super-spectral WorldView-3 satellite.
In addition, Exelis has designed and built every domestic commercial remote sensing imaging system, including QuickBird, WorldView-1, GeoEye-1, WorldView-2 and the soon-to-be-launched WorldView-4 satellite.
A full range of mission critical networks and intelligence, surveillance, reconnaissance and analytics solutions will be available to view at the Exelis booth #300A during the 31st Space Symposium at The Broadmoor Hotel in Colorado Springs, Colorado, April 13-16.