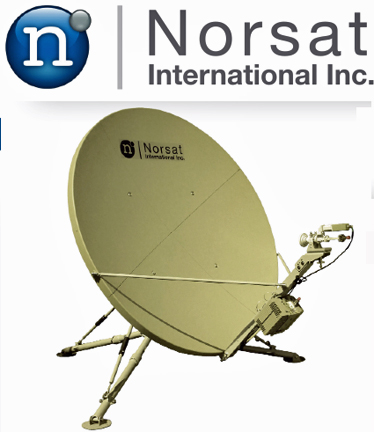 [SatNews] Norsat International Inc. ("Norsat") (TSX: NII and OTC BB: NSATF) has received an order to deliver its recently launched SigmaLink(tm) AUTO and Ranger products to a major military contractor that supplies communications solutions to governments and militaries worldwide.
This contract marks the first sale of these next-generation technologies designed to improve ease of use and to address industry trends by military customers that are increasingly looking for very small form factors. The 1.8m and 2.4m SigmaLink AUTO series of transportable satellites are ideally suited to provide broadband connectivity for base camp operations. The SigmaLink AUTO provides a quick setup and alignment procedure, so users can be up and transmitting in under 15 minutes while getting the high throughputs offered by larger aperture sizes. This new version of Norsat's popular SigmaLink lineup adds auto-acquire technology to ensure easy operation and satellite acquisition without the need for operator alignment. The SigmaLink AUTO is a product line extension of Norsat's existing terminal platform technology which is utilized by military and commercial customers around the world as the most durable and reliable systems available in the marketplace.
The Ranger is a high-performance, self-contained multiband microsat terminal, featuring industry leading portability and rapid deployment. The Ranger's compact form factor and large throughput make it ideal for special forces operation or for military missions where minimal weight and bulk is critical. The innovation of the Ranger product was based on technology acquired by Norsat from CVG in April 2013, demonstrating the company's capabilities to integrate and expand upon the technology base from various inputs to deliver to the market next generation products and solutions.
Dr. Amiee Chan, chief executive officer of Norsat International commented, "A key objective to our growth strategy is the introduction of new products to the market that capitalizes off the base technology platform that Norsat has created. The SigmaLink AUTO and Ranger products offer new capabilities and aperture sizes to meet the evolving needs of customers that require speed, portability and constant reliability of communications. Our ability to stay at the leading edge of technological innovation by delivering to the markets products and solutions that meet the very high standards of our military and commercial customers is what keeps Norsat as a trusted and preferred provider. We look forward to the continued rollout of these products to additional customers in the coming quarters."
The company expects this initial order for the SigmaLink AUTO and Ranger products to ship in the first quarter of 2015.
For additional details, please visit http://www.norsat.com/