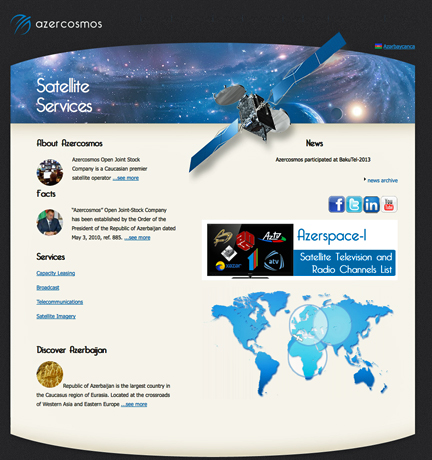 [SatNews] "Azercosmos" OJSC participated at CABSAT-2014, the Middle East and Africa's largest broadcast, digital media and satellite event, that was held from March 11th through the 13th.
Azercosmos' booth at the event attracted a great deal of attention from many companies who operate in the Middle East and in Europe. During the exhibition, Azercosmos held discussions on the issues of cooperation in the field of data and broadcast services with more than 20 companies. The firm received particular full time and occasional use requests on the use of C- and Ku-band resources of its satellite, Azerspace-1. The company received a highly positive reaction to its customer support service in terms of prompt technical assistance for potential customers. During CABSAT-2014, Azercosmos also finalized discussions of the contract details on commercialization of its satellite's resources in C-band with one of Europe's leading satellite companies.
Participation at CABSAT-2014 contributed significantly to the Azercosmos brand as well as the Azerspace-1 satellite on the international markets. "Azercosmos" OJSC is the premier satellite operator in Caucasus region. Azerspace-1, the telecommunication satellite operated by Azercosmos, provides highly-reliable broadband and broadcast solutions to its customers in Europe, Africa, Middle East, Central Asia and Caucasus. The satellite, designed to operate in orbit for at least 15 years, functions via 24 transponders in C- and 12 in Ku-band at 46 degrees East.
For further information, please visit the Azercosmos infosite at http://www.azercosmos.az/