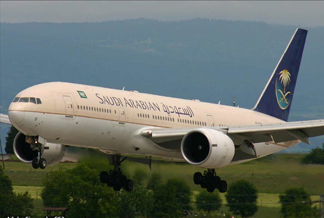 Saudi Arabian Airlines and OnAir today announced an agreement to install full SwiftBroadband Mobile OnAir and WiFi Internet OnAir inflight passenger communications services on their fleet of twin-aisle Airbus A330 aircraft flying international routes.
Saudi Arabian Airlines is expecting delivery of the first A330 in April 2010.  
Saudi Arabian Airlines passengers will be able to
stay connected inflight using their own mobile phones or BlackBerry-type devices to make and receive phone-calls, send and receive text messages and emails, and access the Internet.
Using the Internet OnAir service, passengers will be able to access the Internet and VPN networks, just as they do on the ground by connecting their laptops either wirelessly or via a wired connection.
Through OnAir's provision both of GSM/GPRS and WiFi Internet, Saudi Arabian Airlines passengers flying internationally in the new Airbus A330 fleet will enjoy the broadest range of inflight connectivity options available anywhere in the world today.
On
Airbus A330, the service will be operate on AlnaV2 which will also provide the airline with a host of new improvements such as the use of cockpit and cabin crew applications as well as comprehensive integration with In Flight Entertainment systems.  
His Excellency Eng.
Khalid Abdullah Almolhem
,
Director General, Saudi Arabian Airlines
said,
"Providing this service is part of our ongoing drive to differentiate what we offer and to constantly improve levels of service for our customers.
As we renew our fleet of aircraft, Saudi Arabian Airlines passengers will be able to stay in touch with colleagues, family and friends while they travel. We selected OnAir because we believe it provides the most technologically advanced system and the most comprehensive set of features and benefits to our passengers."
"Saudi Arabian Airlines is a major operator and OnAir is proud to have been selected by this premium carrier," said
Benoit Debains
,
CEO of OnAir
. "The Mobile OnAir and Internet OnAir services together provide air travellers with the most complete inflight connectivity solution available in the world: a full range of service and the highest levels of performance whether they are using mobile phones, BlackBerry-type devices or their laptops – and with global coverage."
Mobile OnAir uses advanced and extensive infrastructure for mobile communications, along with
Inmarsat SwiftBroadband
, high capacity services from Inmarsat 4th generation satellites. This gives Saudi Arabian Airlines passengers the best reach and performance available today.
Air passengers today can use Mobile OnAir to stay in touch as they fly on over
10,000 flights each month, to over 280 cities in over 70 countries across Europe, the Middle East and North Africa.
OnAir has operated more than 65,000 fully connected SwiftBroadband flights to date.