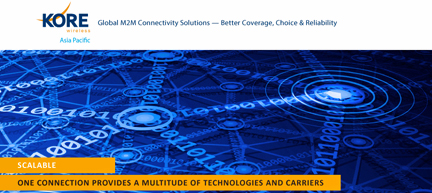 [SatNews] KORE Wireless is joining the upcoming MobileTech 2014 conference, which will showcase a range of innovative technology solutions across a series of sectors including satellite mapping, M2M, smartphones, tablets and mobile apps.
The Brisbane, Australia, show will occur at The Mecure from August 5 – 6, with the Auckland show, to be held at The Crowne Plaza, from August 12 – 13.
Vice President and General Manager at KORE Wireless Asia Pacific, Shane Murphy said MobileTech was a growing industry exhibition with great potential for further growth.
"KORE Wireless are sponsoring this years' MobileTech conference, which will highlight a vast range of sectors—the industry support for this exhibition has continued to grow following the first event that was held last year," Mr. Murphy said. "KORE Wireless are also presenting at the show and we see this as a great opportunity to engage with other members of the industry to discuss the rise of M2M technology."
Mr. Murphy will present a 30 minute discussion on the increase of wireless technology in Primary Industries, while touching on the evolution of remote wireless technology. "Some of the most important industries throughout Australia and New Zealand can operate far more efficiently through the use of wireless monitoring and automation. It's just a matter of understanding how to implement the right solutions. The M2M industry is forever changing, and with so many potential benefits to a wide range of business operations, the need for constant education is crucial. We've already seen some particularly innovative solutions in the primary industries and through KORE Wireless, we want to show people how to continue to drive innovation and development." Shane Murphy will present "The Rise of M2M" on August 5th, at the Brisbane show from 2:00 to 2:30 p.m., and at the Auckland show on August 12th, also from 2:00 to 2:30 p.m.
Throughout both conferences, KORE Wireless will exhibit its range of M2M services including Global Cellular, Iridium SBD and Inmarsat BGAN solutions, as well as a range of case studies and products from its customers in the Primary Industries space.
For further information regarding KORE Wireless, please visit http://www.korewireless.com.au/