One area of immediate concern for passengers and crew when at sea is the quality and immediacy of health care, should such be required during a voyage.
To help to offset such concerns, Marlink has now launched XChange Telemed, an innovative new telemedicine service designed to improve the health and safety of crew and passengers at sea, all the while meeting new ILO/MLC and IMO/STCW labor regulations for health and medical treatment on board. XChange Telemed provides a cost-effective way for shipping companies to manage both regular and emergency medical consultations for the welfare of crew and passengers, thereby supporting the medical health of seafarers and reducing the risk of spiraling costs incurred due to medical emergencies on board.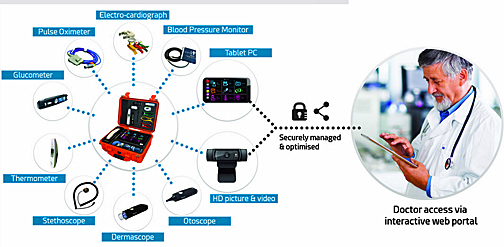 XChange Telemed is an integrated solution that delivers instant remote medical support to vessels by doctors on shore. To ensure that crew and passengers receive fast, effective and interactive medical attention, the service includes a reinforced, vibration-proof hard-case with CE certified medical equipment, an intuitive touch-screen user interface and a HD camera. Medical equipment provided includes electro cardiograph, blood pressure monitor, pulse oximeter and one or several of the following options: otoscope, dermascope, stethoscope, glucometer and thermometer. Clear instructions and reference diagrams are enclosed to assist the remote user with data capture, viewing and sending.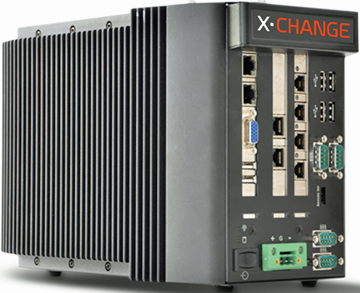 Using Marlink's global multi-band Sealink VSAT services, XChange Telemed facilitates live video medical consultations 24/7 on board and provides doctors on-shore with full, secure web portal access to patient medical data according to the strictest European medical authority standards. For the first time in a maritime telemedicine service, customers may select between using remote medical assistance from compatible public Telemedical Maritime Assistance Service (TMAS) centers, an appointed doctor or a private medical organisation.
According to an article published in International Maritime Health[1], the average cost of a vessel re-routing due to an emergency is approximately $180k (€163k). Using XChange Telemed, unnecessary diversions or helicopter evacuations could be avoided by treating crew illnesses and injuries on board with frequent follow-up by the remote doctor. While reducing down time and improving comfort for a sick or injured person on board, the service also provides traceability of the performed actions.
XChange Telemed requires no up-front investment. To ensure service continuity, hardware and software maintenance is included as part of the service, meaning that shipping companies can act on their responsibility for crew members whilst at sea by providing a highly reliable on board telemedicine service.
According to Tore Morten Olsen, the President of Maritime, Marlink, XChange Telemed is a complete, fully managed telemedicine service that significantly improves and facilitates remote medical consultation by providing an integrated hardware and communications platform to enable a direct, real-time link to professionals on shore. He added that supporting the health of passengers and crew is vital; however, in selecting XChange Telemed on the company's global Sealink services, shipping companies can also meet new regulations and improve insurance processes, while reducing the potential for significant unplanned costs that may arise due to medical emergencies at sea.