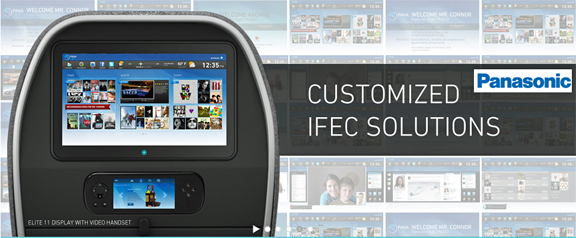 [Satnews] China Eastern Airlines has become the first Chinese carrier to launch inflight connectivity on international flights, partnering with Panasonic Avionics.
The leading Chinese carrier, which, in partnership with China Telecom Satellite, was also the first to offer Wi-Fi on domestic flights, has installed Panasonic's award-winning eXConnect inflight connectivity system on its newest Boeing 777-300ER aircraft. Panasonic Avionics' eXConnect uses the company's global Ku-band satellite network to deliver broadband connectivity to aircraft flying all over the world, even over oceans. This Wi-Fi connectivity service enables passengers to access a wide range of services including the internet, email, and their favorite social media sites.
The service will initially be offered on the airline's services from Shanghai to New York, Los Angeles and Toronto, and rolled out on other routes, including San Francisco and Vancouver in December. The service will also be offered on the airline's domestic services including Shanghai to Beijing, Guangzhou, Kunming, Chengdu and Chongqing. By the end of 2015, inflight connectivity will be available on 20 of China Eastern's aircraft.
Almost 1,000 aircraft are now installed with Panasonic's eXConnect system, with more than 2,500 commitments in total. Panasonic is the only in-flight connectivity service provider with linefit offerability at both Boeing and Airbus.
Executive Comments
Paul Margis, President and Chief Executive Officer of Panasonic Avionics, said, "We have worked closely with China Eastern Airlines over several years to create the first international services from a Chinese carrier with globally-available inflight broadband. This launch is the culmination of this special partnership, and we'll look forward to working with China Eastern over the months ahead to roll this service out across their international network."

Zhang Chi, Deputy Director of China Eastern Airlines' Transformation Office, said, "The goal of the China Eastern Airlines Transformation Office is to transform our inflight experience from a traditional air transport experience into a modern, integrated and connected service. For China Eastern Airlines, inflight connectivity and Wi-Fi go beyond allowing passengers to be connected to Internet; it also dramatically improves our service model. With a connected aircraft, all of our the service support systems will be linked and available to the passengers in real-time, which will allow us to curate an even better experience for our guests."