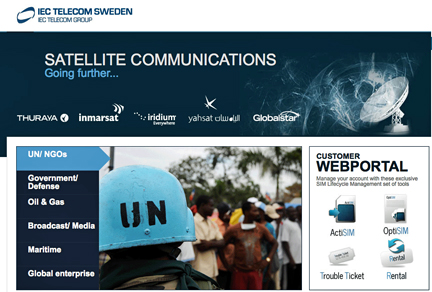 [SatNews] IEC Telecom Group, a leading global satellite communications' provider, has opened a new Scandinavian subsidiary in Stockholm, Sweden.
Early in 2012, the Group acquired Tradee Telecom, a Norway-based company and began to develop a presence in Scandinavia. Today, the opening of IEC Telecom Sweden is the logical step towards consolidation of its business development strategy in Northern Europe. The new office team will be able to benefit from Tradee Telecom's proximity, support and experience acquired in the Norwegian market which has very similar customer's needs and profiles. IEC Telecom Sweden will be supplying mobile and fixed satellite communication's solutions, products and value-added services to the Swedish market in which demand for reliable telecommunications is continuously increasing. The Sweden team will be able to capitalize on experience and know-how gained by otherIEC Telecom Group subsidiaries as well as from our proprietary value-added services platforms and technologies:
OptiSIM (online SIM lifecycle management platform)
OptiCLOUD (set of complementary services aimed at optimizing telecommunications ROI)
Quicklink Video Broadcast Technology
Traksat Geolocation and M2M platform
IEC Telecom Sweden will be able to address this new market with relevant and mature products, solutions and services that have been successfully deployed by many customers worldwide (Governments, Enterprises, NGOs/UN, Video and Audio broadcasters, Transportation, Oil and Gas/Mining, Maritime). The creation of this office opens a new window of opportunity for IEC Telecom Group and is one more step in our international expansion. We are delighted to expand our presence in Scandinavia where we had seen an increasing demand for our products and value-added services. In addition, the Group has recently diversified into fixed satellite communications which will allow IEC Telecom Sweden to rank as a major Ka-band VSAT service provider.