[SatNews] Capping the most successful six months of orders in its history, ASC Signal Corporation has been selected by government and commercial customers around the world to deliver 115 Ka-band gateways and large antennas systems, signaling the growing prominence of Ka-band in the satellite ecosystem.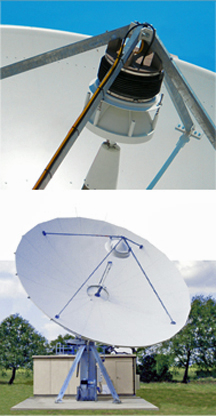 The antennas on order include defense applications for a large number of ASC's 2.5 meter Nomadic multiband antennas and several 4.9 meter, dual-band (Ka-band and low-PIM X-Band) antennas. On the commercial side, the company is delivering numerous 5.6 meter Ka-band gateways for DTH service and network installations of more than twenty 5.6 meter, 8.1 meter and 9.4 meter gateways.
Central to the company's success in the Ka-band market has been the extremely accurate tracking performance delivered by its Next Generation Controller, which provides critical control of 6 axes of motion on the ASC antennas. The 3.5 meter and larger gateways all use ASC's patented sub-reflector tracking (SRT) to further optimize antenna pointing to 1/1000th of a degree of accuracy. Customers are also selecting ASC for its fast delivery times and quick turnaround of customized features, made possible by the company's continuous improvement in manufacturing operations.
The most recent orders bring to more than 400 in number the Ka-band gateways and Earth stations, from 2.5 meter to 9.4 meter, that ASC Signal has deployed around the world. These systems include antennas deployed for use on Inmarsat's Global Xpress, the Wideband Global SATCOM system (WGS), commercial Ka-band networks that include IPSTAR, Wildblue, DirecTV, Hughes, and DTH systems around the world.
There's more information available at the ASC Signal infosite: http://www.ascsignal.com/