[SatNews] Skyware Technologies, a Granahan McCourt Capital company, has commenced shipment of new, lightweight, Inmarsat Global Express ATOM Terminals which will offer broadband connectivity solutions in remote locations around the world where Internet access may otherwise be impossible.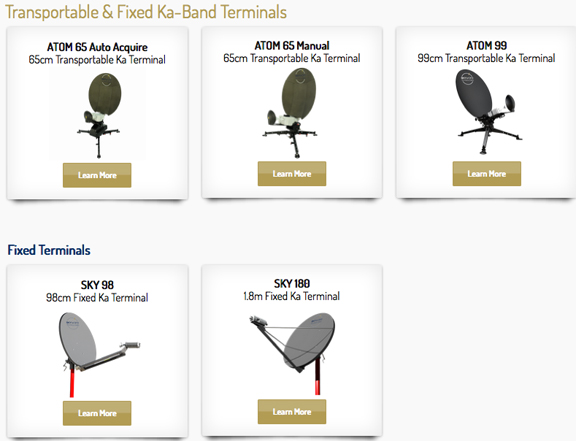 Skyware Technologies has partnered with Inmarsat to develop the new ATOM terminal, which is available with out-of-the-box compatibility with the Global Xpress® network. Customers who have already purchased the ATOM terminal include Airbus DS SatCom Government, Inc., a U.S. based satellite communications unit of Airbus Defense and Space and an Inmarsat appointed Tier 1 Global Xpress Value Added Reseller for the U.S. government market, and Network Innovations, a global satellite communications integrator that delivers turn-key solutions for a wide variety of industries.

Granahan McCourt Capital has also developed a strategic partnership with CONNECT, a future networks and communications research center funded by the Science Foundation Ireland (SFI), which will see a number of PHD students working with Skyware Technologies on the future development of terminals and electronics in Ireland. CONNECT is a consortium of 10 academic institutions and is headquartered in Trinity College, Dublin. The focus of CONNECT is the key challenges within society that drive the need for new and varied forms of networked services, including mobile internet, broadband, cellular and Internet-of-Things networks

The Inmarsat Global Xpress ATOM 65 with assisted pointing Terminal is one third lighter than competing terminals, making them substantially easier to transport. The new terminal provides rapid and reliable internet solutions such as live high definition streaming solutions and video conferencing, making the product ideal for international news broadcasts and reports. A number of other vertical markets set to benefit from the lightweight and innovative terminals include energy and resources, government, international aid, intelligence and communications.

A tool free set up and fewer, more easily identifiable parts, means the terminal can be constructed in roughly one minute. Passive, fan-free cooling makes the device completely silent, less detectable and ideal for hostile environments and extreme weather conditions. A separate modem module gives the product more flexibility and provides increased safety to the operator by allowing for the modem to be located remotely from the antenna. The Inmarsat Global Xpress ATOM Terminals also feature a tripod with individually adjustable legs which allows for easier set up on more rugged and uneven terrain.

With operations on six continents and extensive expertise in the world's most in-demand satellite communications technologies, Skyware Technologies' winning combination of high technology and low-cost manufacturing makes its cutting-edge terminal solutions and RF electronics platforms unique in the market.

David C. McCourt, Chairman and CEO of Granahan McCourt Capital, said, "Shipment commencement of the ATOM terminals is a significant milestone for us. We are eager to see our partners and end users put the new terminals to work and reap the rewards of the research and innovation involved. This technology evolves at a very fast pace, so for that reason we are delighted to have developed a significant partnership with CONNECT for this project. This alliance will enable a number of PHD students in Ireland to work on the very exciting future development of these terminals, ensuring we are always ahead of the curve from a technology perspective."
Additionally, the company has announced that Oliver Kroner has joined the company as the Chief Executive Officer at a critical time for the GX launch and partnerships. His addition to Skyware Technologies will help to further develop its growing portfolio of satellite communications solutions delivered to many of the industry's leading companies worldwide.
Oliver Kroner comes to Skyware Technologies with 14 years of industry experience. He previously served as the European VP of Sales with Ceragon Networks where he grew the company from $1MM to $25MM in annual revenue over 10 years. Oliver brings an outstanding record of leadership, sales experience, and industry knowledge to his new position at Skyware Technologies and is now responsible for overseeing all aspects of the company's global operations as it continues to grow rapidly.