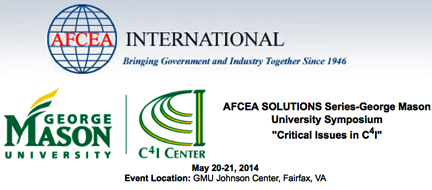 [SatNews] The AFCEA/GMU Critical Issues in C4I Symposium brings academia, industry and government together to address important issues in C4I technology and systems R&D—this year the agenda is focused on the following technologies and topics:
KEYNOTE SPEAKERS
Maj Gen Robert Wheeler, USAF, Deputy CIO for C4 and Information Infrastructure Capabilities, "Challenges in Providing Warfighter Technology in the Era of CyberOps"
RADM Jay Cohen, USN (Ret.), Principal, The Chertoff Group, "Impact of Federal R&D Budgets on Information Superiority"
SESSIONS
Software for Secure Systems
SCADA System and Technology Issues
IEEE/STEM Workforce Shortages
Machine Execution of Human Intentions
Quantum Computing
The New Robotics Ecosystem for Defense and Security
ISR Sub-Second Cyber Security
The Forecasting Science & Technology (ForEST)
Progress in IT Acquisition Reform
Value Assured Framework (VAF): Risk Revisited
PlugFest as an Enterprise Information System Acquisition Risk Mitigation Methodology
EXHIBITS
Tabletop exhibit space is available. The exhibit space is co-located with the sessions so you'll get the opportunity to hear the discussion and engage attendees as well as exhibit! Click here for more information.
SPONSORSHIPS
Sponsorship opportunities are still available for large industry, government, and small businesses. Select this direct infolink for additional information.