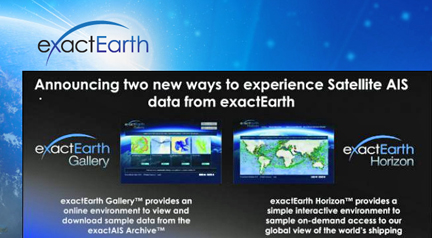 [SatNews] In September 2013, the U.S. Coast Guard (USCG) Command, Control, and Communications Engineering Center awarded a contract to the Marine Exchange of Alaska (MXAK) to provide exactEarth Satellite AIS data for the USCG Nationwide AIS Program.
The purpose of this contract is for the USCG to obtain Satellite AIS data and maintenance support services 24 hours a day, 7 days a week.
This effort entails providing the USCG with Satellite AIS data in near real time, stored and forwarded, and archived from a constellation of multiple satellites that cover the entire Alaska District of the USCG, including the polar region, with AIS collection capability. The USCG Command, Control and Communications Engineering Center in support of the USCG Nationwide Automatic Identification System (NAIS) program will conduct a project to provide/evaluate Satellite AIS data in USCG District 17 (Alaska). The Marine Exchange of Alaska currently contracts with exactEarth for Alaska Satellite AIS Data, and will provide the exactEarth data to the USCG in addition to the coastal AIS data for Alaska from over 100 terrestrial AIS receiver sites that it already provides under a separate USCG contract. The contract period of performance is 12 months.