[SatNews] MDA's Information Systems Group (MDA) has announced a strategic partnership with PCI Geomatics (PCI) to introduce a solution that streamlines access to synthetic aperture radar (SAR) imagery for Geomatica 2014 users.
A key benefit of this partnership provides Geomatica users with direct access to MDA's SAR experts who have decades of expertise in radar remote sensing analysis. The solution provides access to RADARSAT-2 order handling services through both the PCI Geomatica website, and PCI Geomatica, a state-of-the-art desktop software package for processing Earth observation data that allows users to load satellite and aerial imagery where advanced analysis can be performed.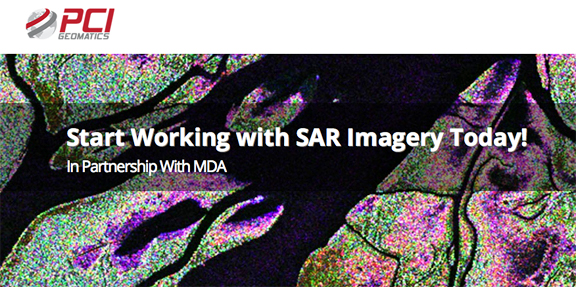 SAR has all weather, any-time monitoring capabilities that offer a number of unique benefits for Earth-surface and feature observation. The RADARSAT-2 satellite has global high-resolution surveillance capabilities that include a large collection capacity and high accuracy. The satellite provides frequent re-visit imaging options, and is supported by ground receiving stations that provide near real-time information delivery services. This versatility makes RADARSAT-2 a reliable source of information in multi-faceted intelligence surveillance and monitoring programs. MDA is a primary source of geospatial solutions for the Oil and Gas, Defence and Security, Disaster Management, Aviation, Natural Resources, Agriculture, and Mining markets.
Through this partnership, PCI users can better leverage MDA's SAR expertise to unlock the potential of RADARSAT-2 to solve some unique customer challenges. With a more robust suite of services, and with world-leading advanced geospatial production and analysis capabilities, MDA and PCI are even better positioned to meet customers' needs.
The MDA Information Systems Group infosite, located at http://www.mdaus.com/, has additional information.
Details regarding PCI Geomatics may be viewed at http://www.pcigeomatics.com/.