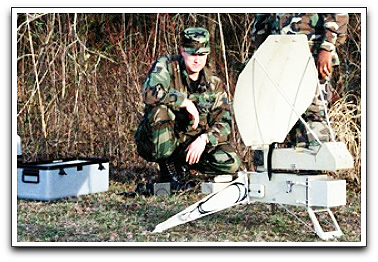 Rockwell Collins has been selected to provide Extended Data Rate (XDR) International Partners Variant (IPV) Single Channel Anti-jam Manportable (SCAMP) terminals to the Canadian Department of National Defense (DND) for use with the U.S. Advanced Extremely High Frequency (AEHF) satellites.
The five-year contract is valued at US$52.3 million. The Foreign Military Sale contract will be executed through the U.S. Army's
Communications-Electronics Command Group
(
CECOM
).
"Our SCAMP terminals will provide the Canadian DND with a protected satellite communications system that is survivable, yet flexible enough to meet their demanding requirements," said
Alan Caslavka
, vice president and general manager of
Command, Control, Communications and Intelligence Solutions
for
Rockwell Collin
s. "The SCAMP terminals will enable the DND to take advantage of the expanded communications availability made possible by the launching of the new military AEHF satellites." Rockwell Collins'
SCAMP
terminals provide worldwide secure, jam-resistant, covert, voice and data communications. They offer communication for a wide variety of applications and users. The terminals feature
Extended Data Rate
(
EDR
) capability that delivers data rates comparable to high quality, Digital Subscriber Line (DSL) modems.