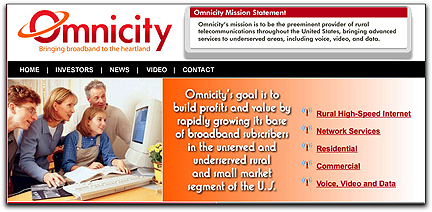 Omnicity Corp (OTCBB:OMCY) has signed an agreement with StarBand Communications Inc. to offer StarBand satellite high speed internet service in Omnicity markets and throughout the United States.
Omnicity
will rebrand this service as
Omnicity Satellite Internet Services
and plans to offer it to households that may not be able to receive Omnicity's wireless internet or DSL services.
Omnicity plans to immediately launch this rebranded satellite service in all its markets. The effect of this offering is that Omnicity will have a high speed internet solution for virtually every household in its markets. Omnicity Satellite Internet Services will be a value oriented service available for residential, small office/home office (SOHO) and small businesses. In Omnicity's aggressive march to deliver "Broadband to the Heartland," the addition of satellite high speed Internet secures its ability to cover more areas.