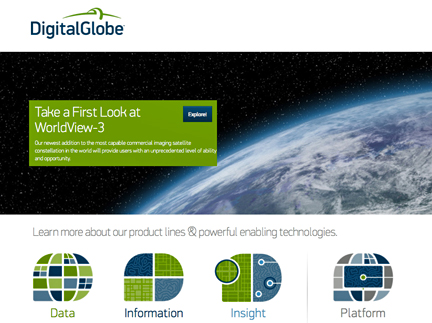 [SatNews] Lockheed Martin [NYSE:LMT] Commercial Launch Services (LMCLS) will launch the WorldView-3 commercial remote sensing spacecraft, placing it into orbit on August 13 for DigitalGlobe, a leading provider of commercial high-resolution Earth Observation and advanced geospatial solutions.
WorldView-3 will be launched aboard an Atlas V. The launch is scheduled for 11:29 a.m. Pacific Daylight Time on August 19th from Space Launch Complex-3E at Vandenberg Air Force Base in California. LMCLS is the exclusive provider of Atlas rockets to all non-U.S. government customers. With dedicated launch sites, unparalleled orbital insertion accuracy, and 116 consecutive successful launches to date, Atlas is unmatched for performance, reliability and schedule assurance.

WorldView-3 is the first multi-payload, super-spectral, high-resolution commercial satellite for Earth Observations (EO) and advanced geospatial solutions. Operating at an expected altitude of 617km, WorldView-3 will have an average revisit time of less than one day and will be capable of collecting up to 680,000 square kilometers of imagery per day, further enhancing DigitalGlobe's capacity for rapid and reliable collection. The range of customer applications enabled by the DigitalGlobe constellation is expanded by WorldView-3's ability to sense the visible spectrum as well as deeper into the infrared spectrum. Its data-rich imagery will enable customers to search for new sources of minerals and fuels, manage forests and farms, and accelerate DigitalGlobe's exploitation of Geospatial Big Data™—a living digital inventory of the surface of the Earth.


LMCLS, a business unit of Lockheed Martin Corporation, provides Atlas V launch services to all non-U.S. government satellite customers worldwide and also offers Athena launch services for small satellites and multi-payload RideShare missions. LMCLS is responsible for contracts, licensing, marketing, sales and mission management for Atlas and Athena missions. Under subcontract to LMCLS, United Launch Alliance provides Atlas launch vehicles and launch support services.

For more information regarding Lockheed Martin Commercial Launch Services, please visit http://www.lockheedmartin.com/
The DigitalGlobe infosite for Worldview-3 is available for access at http://worldview3.digitalglobe.com/