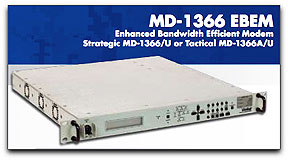 ViaSat (Nasdaq:VSAT) is offering a new Ethernet Service Expansion Module (ESEM) baseband interface for the MD-1366 Enhanced Bandwidth Efficient Modem (EBEM) that promotes Frequency Division Multiple Access (FDMA) modem interoperability across Department of Defense (DoD) satellite networks and adds new feature updates as well.
Having successfully completed first article testing, the
ESEM
option adds an open-standard Ethernet interface to the EBEM standards-based modem.
This latest enhancement to the field-proven MD-1366 extends FDMA modem capability far beyond traditional fixed-channel, serial interface operation and is certified for use over Defense Satellite Communication System and Wideband Global Satcom military satellites. U.S. Army, Navy, Marine, and Air Force customers have recently ordered approximately US$2 million worth of MD-1366 modems equipped with the ESEM interface. The ESEM plug-in interface enables Ethernet baseband data (10/100/1000 BaseT) interoperability among DoD FDMA modems by concurrently transmitting Internet Protocol (IPv4 or IPv6) Ethernet baseband traffic as well as non-IP data flows. The ESEM, together with the
Information Throughput Adaptation
and
Radio Aware Routing
features of the MD-1366, moves beyond the traditional "fixed channel data rate" environment of FDMA communications to automatically maximize data throughput. When environmental conditions deteriorate, the modem switches to a more robust modulation and coding scheme to maintain the connection. In traditional fixed-channel military satellite communication environments where a 3-4 dB link margin is typical, the features can provide more than a 100% improvement in data throughput.
The MD-1366 EBEM is the result of a U.S. government program to create an efficient, open-standards based FDMA modem waveform (per
DoDI 4630.09
) in accordance with DoD policy for transmission of IP over DoD-owned satellite communication systems. The modem is the most widely adopted DoD FDMA modem since the OM-73, one of the legacy and proprietary serial modems it was designed to replace. The MD-1366 supports direct interoperability between users, maximizes bandwidth–on-demand efficiencies, and enables the DoD to buy product from multiple vendors.