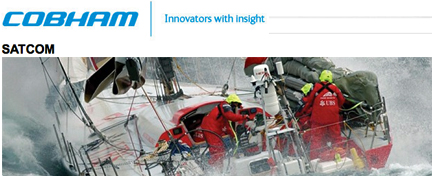 [SatNews] Cobham SATCOM has signed a contract with Inmarsat to manufacture a new, low cost terminal for the Fleet One SATCOMs service, due to be launched in Q2 2014.
Available in April of 2014, the SAILOR Fleet One terminal will be the first available for Inmarsat's new Fleet One service, which is the ideal communication solution for yachts, motorboats and small fishing vessels. SAILOR Fleet One enables data connectivity up to 100kbps and a single voice line. Its capabilities offer significant communications functionality for recreational and fishing users. The Fleet One service, accessed using the low cost SAILOR Fleet One terminal, will be provided through the Inmarsat-4 satellite constellation, the same award-winning network used by the world's leading ship operators.
SAILOR Fleet One is designed to the same high quality standard as the existing SAILOR FleetBroadband product line—a fact more than 35,000 end-users have experienced so far. The antenna is light and easy to install, even on small boats, and connecting to the below deck equipment is simple enough that keen owners can handle the installation and maintenance themselves.
"Fleet One gives owners of smaller boats the opportunity to get online when sailing out of mobile network range. SAILOR Fleet One is going to be an attractive option for boat owners who want to stay in contact with land, but who may previously not have had the space on board, or had considered satcoms as a luxury item only," said Casper Jensen, Vice President, Maritime, Cobham SATCOM.
For further information regarding Cobham SATCOM, please visit http://www.cobhamcareers.com/what-we-do/satcom.aspx