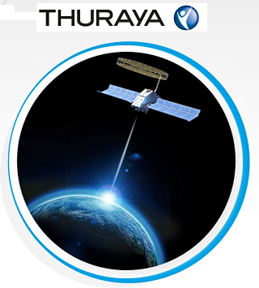 [SatNews] Thuraya announces the launch of the Thuraya Calling Card, a dynamic market solution that reinforces value-for-money, convenience and versatility for individual users and business managers.
Available in three denominations of 25 units, 50 units and 100 units, Thuraya Calling Card will come as a welcome relief to cost-conscious managers, particularly in the maritime and energy sectors, who need to control operational costs of both equipment and staff. Thuraya Calling Card allows entire crews to use their individual Calling Cards to make personal calls from a single phone, ensuring that business and personal calls are kept separate. This also allows managers and ship owners to monitor budgets effectively, as usage is charged to the Calling Card and not the telephone account.
A fast and reliable way to communicate with friends, family and colleagues, Thuraya Calling Card can be used from fixed and mobile phone networks around the world and through the Thuraya network and handsets in 140 countries. Calling Card is easy to use, with just two steps to making that all important call. Simply call the toll free access number while calling from fixed or mobile phones, or dial a short code while calling from Thuraya (155 for English, 156 for Arabic and 157 for French.) An IVR prompt response asks the caller to enter a 12 digit PIN number of the calling card and then prompts callers to enter the destination number (Country code + area code + phone number) to make a call.
Thuraya's unique Calling Card offers customers a clear and reliable connection to make calls to Thuraya from other mobile and fixed networks at a standard rate saving businesses around a staggering 68% off corporate bills and proving cost-effective for personal users.Calling Cards are available from Thuraya Service Partners.
Executive Comment
Thuraya Chief Commercial Officer, Bilal El Hamoui, said, "Thuraya Calling Card is being introduced at a time when Maritime users in particular are cost-conscious and the need for a comprehensive product that offers transparent pricing is of vital importance. Businesses can keep commercial and personal calls completely separate, on the same terminal. Employees can make their own calls with complete confidence they are not running up a huge bill for the company."