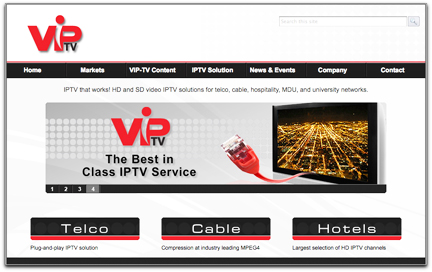 EchoStar Satellite Services L.L.C., a subsidiary of EchoStar Corporation (NASDAQ: SATS), have announced that Minnesota-based Pace International, a national satellite TV hardware and content distributor and provider of IPTV solutions for telcos, ISPs and system operators, has joined the ViP-TV(tm) Reseller Program.
Pace
currently delivers hardware and content solutions, including local TV channels, to hundreds of thousands of commercial, SMATV and MDU units.
Now, as a marketer of
EchoStar
's
ViP-TV
services, Pace can also arrange for IP-encapsulated video transport services and turn-key managed server solutions to telco operators, cable TV systems, and
multiple dwelling unit
(
MDU
) enterprises seeking an IPTV solution, including those serving gated communities, townhomes, hospitals, and hospitality markets. ViP-TV offers a suite of IPTV services that includes more than 300 popular, broadcast-quality TV and music channels in IP H.264 format. ViP-TV resellers offer customers ViP-TV's blade-based receiver system that can significantly reduce capital expenditures, required rack space, power consumption and operating costs for head-ends.