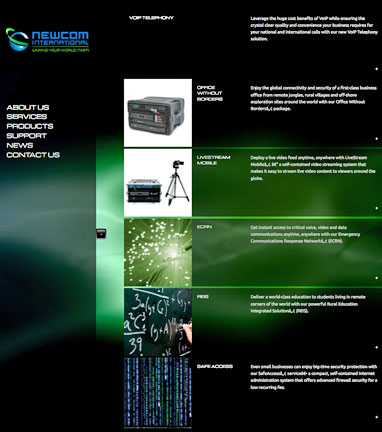 [SatNews] NewCom International is revolutionizing the way content providers are bringing programming at an affordable rate and increasing QoE (Quality of Experience).
Strategic partner Alexander Fiore from Latele Novela Network (LNN) has teamed up with María José Revaldería, general manager of Spanish channel 8Madrid, to bring the latest in entertainment programing to the United States at a fraction of what it costs for programming to transmit via satellite or the astronomical costs of implementing new fiber lines.
NewCom's ability to save thousands of dollars for content providers is due to their top of the line services and an innovative video transport solution that is provided by LTN Global Communications. LTN's unique cloud-based global video delivery, coupled with NewCom International's service, helps optimize the use of this solution and in turn enables clients to slash their costs of acquisitions and dissemination of programming by thousands. These two critical elements reduce the high expense of programming acquisitions for clients such as Latele Novela Network, who enjoy the ability to increase their bottom line without sacrificing quality in broadcast.
Dora Mejia, Director of Sales and Business Development of NewCom International, shared exactly how her clients fiscally benefits from this service, "Traditionally, a channel over satellite takes 3 to 4MHz at a $3,000/MHz monthly cost, equaling $9,000 to $12,000 for the uplink from Spain to USA. In this case, laying fiber lines is cost prohibitive. On the other hand, if I offer this cutting edge technology and service to the client where they may pay a low monthly service fee, the savings are immediate. Clients can continue to do their business as usual and have more money in their pockets from the savings. Latele Novela Network is the first network to launch a dedicated 24 network for U.S. Hispanic for telenovelas and it is no coincidence that they want to provide diverse programming for their audiences. It was easy for them to jump on board to bring this channel from Spain to the Latino US Market because of this combination of NewCom's innovative ability to provide service and technology."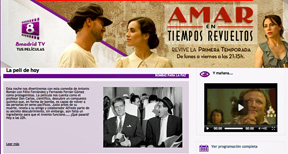 LTN's video transport solution enables NewCom to optimize the use of the public Internet last mile access by its customers to maximize and deliver a dedicated line like service for media transport. The service now enables Latele Novela Network to receive broadcaster quality video stream from 8Madrid through NewCom's teleport using standard public Internet access. LTN created a highly redundant fully managed and controlled cloud network, designed to provide professional quality live video transmission from any place to any number of locations around the world.
A specialized LTN appliance is placed locally at customer site to optimally connect the customer's video stream to the LTN cloud. This appliance enables 8Madrid to send programming reliably via LTN's global cloud to the United States, using a standard Internet connection.