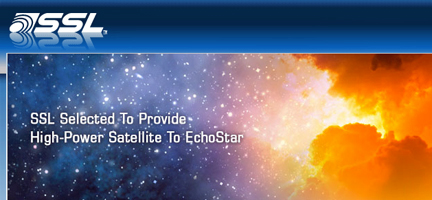 [SatNews] Space Systems/Loral (SSL) has been selected to provide a high power satellite to EchoStar Corporation (NASDAQ: SATS).

EchoStar XXIII will be a flexible Ku-band satellite capable of providing service from any of eight different orbital slots. Planned for launch in 2016 it is designed to provide service for 15 years or longer.

"EchoStar has had a longstanding, successful relationship with SSL", said Anders Johnson, president of EchoStar Satellite Services L.L.C., a wholly-owned subsidiary of EchoStar Corp. "We look forward to working with them to add another state-of-the-art satellite to the EchoStar fleet."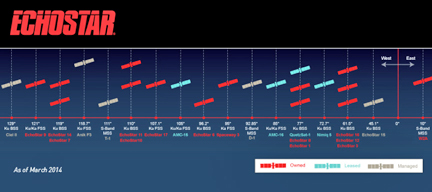 EchoStar Corporation (NASDAQ: SATS) is a premier global provider of satellite operations and video delivery solutions. EchoStar's wholly-owned subsidiary, Hughes, is the world's leading provider of satellite broadband services, delivering network technologies and managed services for enterprise and government customers in more than 100 countries. Headquartered in Englewood, Colorado, with additional business units world-wide, EchoStar is a multiple Emmy award-winning company that has pioneered advancements in the satellite and set-top box (STB) industries for nearly 30 years. EchoStar's contribution to video technology continues to have a major influence on the way consumers view, receive and manage TV programming. EchoStar's consumer solutions include HughesNet®, North America's #1 high-speed satellite Internet service, Sling Media's Slingbox® products, and EchoStar's line of set-top box products for the free-to-air satellite and terrestrial markets. For more information, please visithttp://www.echostar.com/.
SSL has a long history of delivering reliable satellites and spacecraft systems for commercial and government customers around the world. As one of the world's leading provider of commercial satellites, the company works closely with satellite operators to provide spacecraft for a broad range of services including television and radio distribution, digital audio radio, broadband Internet, mobile communications, and Earth observation. Billions of people around the world depend on SSL satellites every day. For more information, please visit http://www.sslmda.com/.