Orbit Logic has announced that SpyMeSat mobile app users can now send new tasking requests to the KOMPSAT-5 Synthetic Aperture RADAR (SAR) imaging satellite and KOMPSAT-3A high resolution (40cm) optical imaging satellite.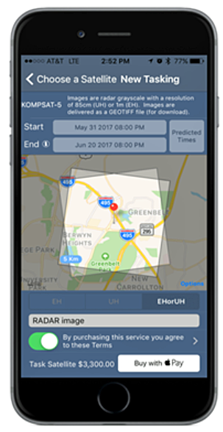 KOMPSAT-5 is the first SAR satellite available for tasking in SpyMeSat and KOMPSAT-3A is now the highest resolution satellite available for tasking in SpyMeSat. Including these two new satellites, SpyMeSat users can now select from eight different high resolution (1m or better) imaging satellites for new tasking. SpyMeSat provides real-time imaging satellite awareness, on-demand access to archive satellite imagery, and the ability to request new tasking directly from a mobile device.
The most recent, highest resolution commercial satellite archive imagery of any location is available to the user through an easy and affordable in-app purchase process. The entire process of preview, select, purchase and delivery of archived imagery can be completed in seconds, delivering satellite imagery for any location on demand. When archive imagery does not meet the need, and a new image is required, users can review the list of satellites available through SpyMeSat for new tasking, and make a selection based on cost, responsiveness, and capability.
According to the company, SpyMeSat is the most affordable and convenient option on the market for high resolution satellite imagery. Archive satellite imagery resolution ranges from 30cm to 50cm, and the resolution for new tasking ranges from 40 cm to 1 meter.