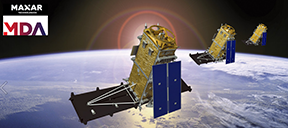 MDA, a Maxar Technologies company (formerly MacDonald, Dettwiler and Associates Ltd.) (NYSE: MAXR; TSX: MAXR) has appointed Chris Pogue to serve as President of the newly created division, MDA Government — in addition, MDA has announced an organizational shift to better align with the market and customers' needs.
Mr. Pogue assumes responsibility for taking MDA Government to the next level of growth and profitability and will report to Mike Greenley, the Group President of MDA. Mr. Pogue will have responsibility for the following lines of business; Defence, Earth Observation Systems, Enterprise IT, and Government Space Robotics.
Most recently, Mr. Pogue served as Vice President, Mission Systems International and Vice President Public Safety and Security Solutions at General Dynamics Mission Systems where he worked for eight years. Prior to General Dynamics, Chris was President of CAE Defence and Professional Services. Prior to joining the private sector, Chris had a very successful 18 year career in the Canadian Air Force. Chris has a B.Sc in Physics and an M.Sc in Physics & Oceanography from Royal Roads Military College in British Columbia, followed by executive education at the universities of York, Liverpool, and Harvard Business School.
Mike Greenley, Group President of MDA, said that he is very pleased to announce the appointment of Chris Pogue as President MDA Government. Chris is a dynamic, transformational leader with multi-disciplinary experience and a proven track record of effective leadership, and driving significant business growth while consistently increasing profitability. The company expects that Chris will help drive rapid growth and address diverse mission requirements for government customers by leveraging MDA's unique capabilities and collaborating with Maxar's other leading space technology companies, SSL, DigitalGlobe and Radiant Solutions to accelerate innovation for the new space economy.