[SatNews] Emerging Markets Communications (EMC) brings a new connectivity solution, QuickSkid, to the Oil & Gas industry, which enables faster, more reliable and flexible communications.
Rig owners, operators and service providers can leverage QuickSkid as a primary or secondary connection, for operations, crew welfare, remote operating vehicles, disaster recovery or applications demanding heavy bandwidth utilization.
The fully managed service incorporates EMC's global Ku-Band networks and teleports, a stabilized antenna and equipment in a box, field support and a 24x7 global operations center. EMC will test and ship inventory, equipment and spare parts to its field offices around the globe to quickly deploy services in the Gulf of Mexico, North Sea, Offshore Angola, Spain, Singapore and Brazil.
"As the industry strives to drill faster and explore further, oil and gas companies demand quick deployment and flexible communications solutions that are reliable and can be used for multiple purposes," said EMC Senior Vice President Jesus Barber.
"Our QuickSkid is a simple solution, providing a faster way to get connected offshore, for disaster recovery, more redundancy or an independent network for a service provider," said Barber.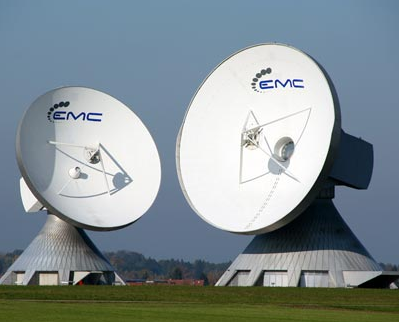 EMC's QuickSkid Solution Features:
DNV (Det Norske Veritas) Certified System:

Enables the solution to be used worldwide.

Quick Deployed:

Available inventory in key oil and gas markets for quick deployment.

Easy to Install and Repair:

No special tools required to install and only one plug needed to power.

Durable:

Made to withstand harsh outdoor environments.

Flexible

: Can be moved to other rigs or vessels outside of the region, for temporary or long-term use.
Bring-Your-Own Comms for Operators and Service Providers Rig and vessel operators as well as service providers that prefer not to use the communications provided by a company owner, can install their own, using EMC's QuickSkid Solution. This independent connectivity solution gives an operator more control of the quality, reliability and cost of their network. The QuickSkid provides a dedicated network for operations, crew welfare, video, voice and real-time applications that require high availability connectivity.
Disaster Recovery and Emergency Response for Rig Owners
Rig owners, with existing communications on board, can use QuickSkid during outages caused by natural disasters or for emergency response. With inventory in major key oil and gas markets, the solution can be deployed quickly to sustain communication during hurricanes or other emergencies.
Global Satellite Capacity. Local Support
EMC's Global C-Band and Ku-Band Networks provides satellite coverage in all major oil and gas offshore regions including Gulf of Mexico, the North Sea, Offshore West Africa and Brazil. EMC lands traffic in three of its owned teleport facilities in Raisting, Germany, Redditech, UK, and Hawaii, US. An additional 16 teleports are used through partners worldwide.
As part of the fully managed service, EMC provides field engineering support, to deploy and maintain services. These centers are located in key oil and gas markets and store antennas, equipment, and spare parts for quick deployment of services. In addition, the field support engineers are in tune with local customs, languages and processes.
For more information, please visit the EMC infosite