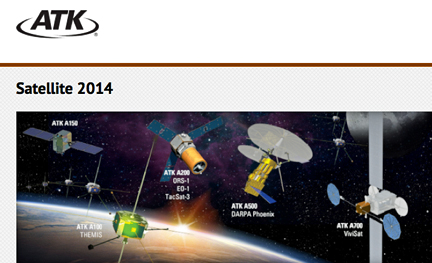 [SatNews] ATK (NYSE: ATK) will display small satellite products and capabilities including in-orbit life extension services at the Satellite 2014 Conference and Exhibition March 10-13, 2014 in Washington, D.C—ATK will be located at Booth 3087 in the exhibit hall at the Walter E. Washington Convention Center.
Visitors to the ATK exhibit will learn more about these innovative technologies through videos, animation and product model displays. ATK subject matter experts will be available to answer questions and provide additional information. With nearly three decades of experience in government and commercial space programs, ATK's Space Systems division provides small satellite mission solutions from integration to launch with 100 percent in-orbit success. ATK's flight proven experience and ability to produce highly engineered products and components positions the company as a leader in new space markets that include satellite servicing missions.
ViviSat, the only U.S.-based firm offering in-orbit servicing, will also be displaying satellite servicing capabilities at the ATK booth. A joint venture of ATK and U.S. Space LLC, ViviSat is offering satellite life extension services that can add several years to the revenue-producing life of a satellite. ViviSat spacecraft also provides significant, flexible hosted payload capability.
A session on satellite life extension programs takes place on Wednesday, March 12th, at 1:45 p.m. at the conference center. Titled "Satellite Life Extension: From Science Fiction to Fact," industry representatives, including ViviSat, will provide an update on market conditions and future trends.
Specific products and information on display at the ATK booth include:
The ATK A Series Satellite Bus Platforms Product Line: A100, A200, A500 and A700 with elevated platforms of A150, A250 and A550
Video demonstration featuring products from ATK's Space Systems division and Space Components division
ViviSat Satellite Servicing video
Updates on current programs
Space thermal products
Spacecraft components such as spacecraft structures, solar array systems and deployables and propulsion tanks
The ATK infosite is located at http://www.atk.com/