[Satnews] Arabian Business.com's Sarah Townsend is reporting that Dubai's Mohammed bin Rashid Space Centre (MBRSC) has completed the final design of the satellite the organization plans to send into space in 2018.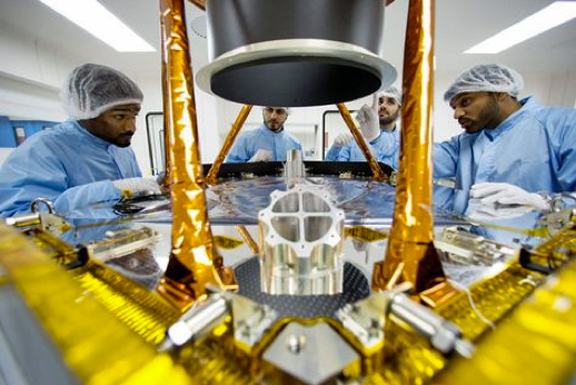 The next stage of development will be to manufacture and test the satellite over the coming years. KhalifaSat will be the third UAE-owned satellite to enter orbit, but the first to be designed and manufactured by Emirati engineers. At a press conference in Dubai, Yousuf Hamad Al Shaibani, director-general of MBRSC, told reporters that completion of the final design of the satellite was "a major milestone."
He said, "The success of Emirati engineers in leading and executing this project is a testament to the skills they gained from the previous two projects, since KhalifaSat is the first practical step in manufacturing an Emirati satellite built by Emirati expertise in Space Technology Laboratories in Dubai."
The project is ongoing at the MBRSC headquarters in Dubai, although the satellite will be transported to a partner country for launch. At present, the laboratory is in a state of vacuum, meaning not even a single particle of dust is present, Al Shaibani said.
When launched, the satellite will aim to capture detailed imagery as it orbits the Earth. According to MBRSC, the images it beams back to Earth will be among the most detailed commercially available—the satellite has a photographic capacity of 0.7 meters GSD (ground sample distance) Panchromatic, and multispectral bands of four meters.
KhalifaSat is part of the UAE's push to become a leader in space research and exploration. Last year, it set up the MBRSC as a dedicated space centre, affiliated with the Emirates Institution for Advanced Science and Technology (EIAST). The centre is also overseeing development of the Mars 'Hope' probe project, planned to coincide with the UAE's 50th anniversary in 2021.
Amer Al Sayegh, director of the Space Systems Development Department at MBRSC and KhalifaSat project manager, who is leading the team of 68 Emirati engineers working on the satellite, said, "We arrived at this advanced stage of development after over a year of collective efforts in designing the satellite's different modules and sub-systems, as well as the prototype mechanical unit and completion of various system and design tests."