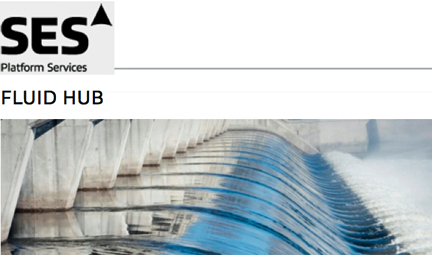 [Satnews] SES Platform Services, a wholly-owned subsidiary of SES S.A. (NYSE Euronext Paris and Luxembourg Stock Exchange: SESG) announces that the company's FLUID HUB solution is being used by more than 10 broadcasters, just a few months after the product's launch.
FLUID HUB, which provides a managed cloud service for the management and distribution of video content, was released in April. The FLUID HUB customer base currently includes broadcasters Fox International Channels Germany and Turner, as well as content creators and distributors such as Beta Film. Two customers are already using it to manage and distribute Ultra High Definition (UHD) content—including INSIGHT, the first-ever Ultra HD channel of Television Entertainment Reality Network.
FLUID HUB is a professional, secure, managed cloud environment for efficient and secure video content and metadata management and distribution to any platform, including Video-On- Demand (VOD), streaming and satellite. Currently, SES Platform Services distributes more than 2,000 hours of video content per month to all major VOD portals in central Europe.
SES Platform Services will showcase its range of digital distribution technology at Medientage München at stand C1, Foyer, Basement. The event takes place at International Congress Center München (ICM) in Munich, Germany, from Wednesday, 21 October to Friday, 23
Executive Comment
"To have so many customers choosing the solution so soon after launch and for UHD content reinforces how vital the service is to the broadcasting market," said Sophie Lersch, Chief Product Officer for Services at SES Platform Services. "The feedback from our customers is very positive, with many of them emphasizing the intuitive interface and easy-to-use workflow, which enables content delivery via a few simple steps. In regards to UHD content, we are one of the first service providers capable of offering a full workflow chain all the way up to delivery to VOD portals, playout and uplink to our satellites."