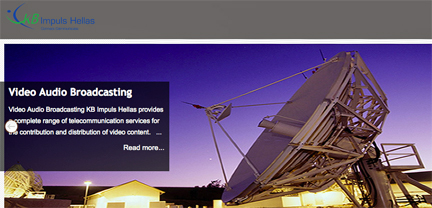 [SatNews] KB Impuls Hellas recently renewed its certification in accordance to EN ISO 9001:2008, conducted by the world leading certification organization, TÜV NORD CERT.
KB Impuls Hellas S.A is a company that has been focused on satellite related services since 1999. The company is a member of Demco Group and owns and operates state-of-art infrastructure with more than 15 satellite antennas facilities and a fully redundant Data Centre. KB Impuls Hellas offers...
Teleport services—antenna collocation
Internet connectivity / VSAT Service
Interconnection via more than 150 satellites with worldwide coverage from USA to Japan.
Value added services
Services via iDirect platform
KBI's General Director, Mr. Koulogiannis, said, "Our company continuously invests towards high quality customer support, which is directly reflected on our customers loyalty to your services. The ISO 9001 processes applied during the last eight years, guarantee the continuous improvement of our offered services, as we continue moving forward in an extremely competitive market."
Furthermore, TÜV NORD congratulated KB Impuls Hellas SA for its dedication to quality, as the company successfully performs all surveillance audits and re-certification.
For additional information regarding KB Impuls Hellas, please visit http://www.kbihellas.com/